Building a strong career in the healthcare industry requires more than a degree and practical training. Not only clinical skills, but employers are looking for more than that. People do not give much attention to soft skills and think they do not matter much. However, medical phone answering service agents have to talk to hundreds of patients daily. These personality traits hold great importance in improving customer interaction.
Soft skills act as a booster to expand your career prospects, day-to-day performance, and activities outside your work life. Not many know, but interviewers also consider soft skills on top of experience and qualifications. Similarly, the medical industry will push you in your career if you possess strong interpersonal traits. Whether working as a medical receptionist, physician, or healthcare assistant, the skills are crucial. This blog looks at the top seven skills every worker must have to succeed in this profession.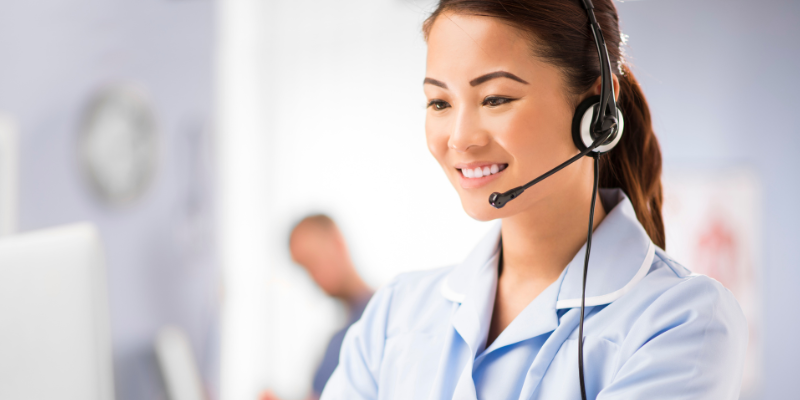 Top 7 Soft Skills for Medical Phone Agents:
Your moral principles and personality reflect your soft skills, which are known to improve connections in healthcare. Phone answering services for businesses play an essential role in connecting callers with them. Interpersonal traits can maximize your skill set to reach a more holistic career in healthcare. So, let's take a look at the best soft skills to acquire:
Empathy

Stress Management    

Communication

Flexibility

Time Management

Patience

Positive Attitude
1. Empathy:
Healthcare staff should learn the art of empathizing with patients to ease up the situation. Why do we call it art? Because empathy is time and again regarded as a core trait in therapeutic consultations. It helps understand the patient's emotions. Some are anxious, waiting for an acknowledgment; others are frustrated, awaiting their report. It helps medical professionals understand better where the patient is coming from to improve the interaction. Phone answering service should deliver on patients' expectations to create strong rapport.
2. Stress Management:
Healthcare is a sensitive industry where lives are at stake. Doctors have to work under much stress. This is the reason physicians are more burned out than other workers. However, the importance of stress management is not as outlined as it should be. Imagine exhausted medical specialists handling you. Will, it not diminish their interest and affect their performance? You can't risk it when people's health is at wit's end.
Highly-trained professionals are great at stress handling. Similar is the case with medical phone agents. Hospitals often use outsourced phone support that is proficient in this area and handle the patient overflow easily. They handle the high call volume keeping everyone comfortable and making it easy for the hospital staff.  
3. Communication:
Having expertise in communication is vital in every job, but it is even more imperative in healthcare. Hospital staff has to speak with patients, their loved ones, as well as colleagues. This is not possible if you are not fluent in delivering your views. Institute for Healthcare Communication stated that no matter how knowledgeable a doctor might be, they will be of no use if open and good communication is not among their skills. It shows a strong connection between medical staff and patients' ability to understand medical recommendations, preventive health measures, and self-wellbeing.
People measure the quality of a medical center by assessing their service with clinicians. How well and clearly you interact with patients is what sets their mood and mind. So, strong communication skills are of great importance. However, medical receptionists have to be a notch up as they are not communicating in person and have to be confident and helpful to increase customer satisfaction. 
4. Flexibility:
Does the healthcare system work the same as other jobs? Do people get sick or face an accident only from 9 to 5? Flexibility is instrumental in this profession. Your phone answering service should be open to patients at all times. It rings round the clock, and no one can show any laziness in this matter. So always be ready to be swarmed by the abundance of phone calls.
Like others, you also have a life. So healthcare institutions can outsource their phone support to let medical phone agents handle the calls 24/7. Not only do they answer calls, but they also schedule doctor appointments, adapt as per the situation, and also store patient data. So either be flexible or hire a flexible team, as it is crucial for medical workers.
5. Time Management:
Time is the key in the health industry, as a bit of lateness can cause someone to lose a life. Just like physicians, medical phone reps also move in different directions and should know how to understand and prioritize each patient according to their condition.
There are never enough hours for healthcare staff, and they are always on the line. So, managing your time and prioritizing the patients by severity helps you grow as a person and a professional. Phone agents should know how to set the workload and carry out different activities at once. They should also be able to make quick changes at the last minute to keep the workflow seamless.
6. Patience:
Patients ironically have no patience, and it is understandable why. However, if they can't be, someone has to be, especially your medical receptionist. Your call reps have to show patience in understanding the caller's problem and assist them carefully. Let the caller speak before you do. They are also under stress and confusion, so showing patience will calm them and help them understand the concern better.
People might not notice how patient you are, but they surely will recognize if you are impatient. So, it is important for your phone answering service agents to acquire this skill to boost loyalty and ease the resolution process.
7. Positive Attitude:
Sounding positive is a must in every business, but it has a different effect on patients. Healthcare is a challenging job as you meet and talk to patients all the time. There is also the stress of working with teammates. So, a sunny attitude will help your phone agents leave a positive mental effect. In addition, you sometimes have to convey unfortunate news, which is not an easy job. But, calming the situation and comforting patients should be one of your top skills. The list goes on, but having mentioned skills will put you apart from the competition. 
Develop Soft Skills for Ultimate Healthcare Support Success:
First, you need to assess the skill you already have and then think through the skills you require for the healthcare industry. For example, you could already have communication skills but lack flexibility. But do you have the time to train your team? This field is already the busiest, and finding time to train or hire already trained people is exhausting. However, you can always outsource your phone answering services.
Digitech Outsourcing Solution (DOS) has the best-in-class medical call agents on board. Our reps have the aforementioned and more skills to provide your patients with a complete experience. We keep our services live 24/7, so all your patients are handled in an emergency. We even have multilingual services to meet the changing dynamics of the industry. You can also use our free trial to get an idea about our phone support reps. So pick up your phone and get in touch with us to find the best support workforce.
Soft skills should not be avoided as, bit by bit, you build your career, and these play a great role in showing you as a competent person. So stand out by honing your skills, or simply hire DOS for easy and ultimate success.