The real estate industry is especially prone to market shifts. Therefore, upholding efficient management while providing low-cost service solutions is crucial for realtors. A simple solution to free up time for yourself and your core functions more time is to seek support from BPO companies. 
BPO can be an asset to a real estate business. They can provide help with back office functions, property control, and customer support services. According to a survey, 55% of realtors outsource their management and admin services, while 18% outsource design and customer care services. This article will explain the role of business process outsourcing in the growth of the real estate industry.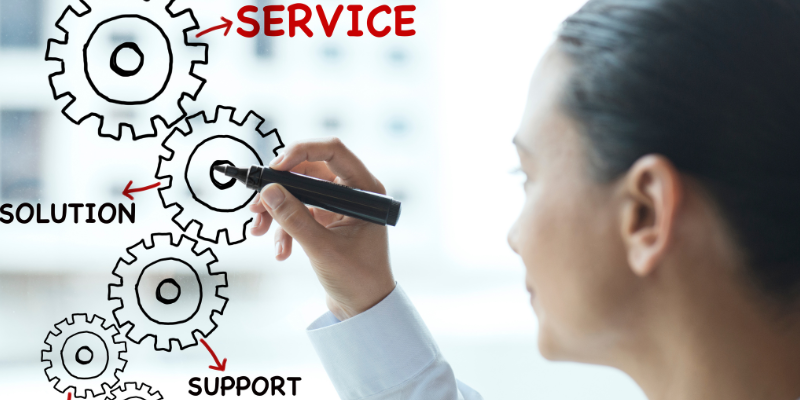 Real Estate BPO:
Real estate Business Process Outsourcing (BPO) is the process of signing up for an external provider to carry out the non-core functions for your property business. Realtors often prefer outsourcing the banal tasks to hiring in-house staff.
The real estate world benefits a lot from the BPO sector's ongoing expansion. BPOs help the real estate market thrive with high-quality service. The real estate sector will remain viable as long as BPO companies are there to take over the stressful and time taking tasks.
A real estate BPO service can also streamline the whole management and documentation process. These tasks require accurate market knowledge and fast encoding into CBM systems. This can affect the value of a property, and BPO providers are skilled in ensuring the accuracy of all details. 
What Are The BPO Services Offered To The Real Estate?
In real estate, business process outsourcing (BPO) is one way to get rid of back-office tasks and increase efficiency. It reduces the amount of time that agents spend performing mundane tasks. It also helps real estate firms stand out from the competition and ensures smooth operations.
Following are a few of the services realtors can outsource to BPO companies.
Property Inspection/Valuation Data Entry Operations

Customer support via phone/chat. 

Basic Bookkeeping 

Property Marketing

Telemarketing
Outsourced services include property review, valuation, and marketing. These services can help real estate firms find tenants. They can also evaluate potential tenants' financial and living needs. And handle trade and advertising for properties. Another edge is telemarketing which helps the sales team find good clients and leads.
Mortgage lenders also use BPOs. These services provide an accurate check of the value of a property. And can help them decide whether to close a deal or negotiate for a short sale. These call center services can be quite lucrative. Compared to appraisals, BPOs are more affordable and quicker.
How Can BPO Services Benefit The Real Estate Industry?
Outsourcing is a great way for businesses to focus on their core competencies and cut costs. In the real estate industry, BPO companies such as broker price opinion (bpo) services on behalf of financial firms. These firms decide the value of a property based on its features and the value of similar properties in the area. These firms also conduct detailed market studies to help in-house staff gather info and make decisions on price ranges.
BPO for real estate firms can improve operational efficiency and cut back on time spent on manual processes. This is a great benefit for firms that are trying to compete in a cutthroat market. They can also help make real estate firms stand out by auto-processing the back-office tasks.
A few major benefits of a BPO are:
Efficient Operations

Enhanced Sales

Constant Support

Personalized Service

Better Client Management

No Burnouts

Expert Marketing 

Streamlined Contact

Low-cost services
Real estate brokerages may also find that getting BPO services can boost their sales volume. For example, BPO services are often used to get a relative market analysis for sellers to help them find out listing prices. 
Importance of BPO Companies for Real Estate
A contact center solution is also a form of valuation used in the real estate industry. It involves analyzing a property's value based on its features. It may be asked by a potential buyer or seller, or mortgage lender prior to an official appraisal.
The BPO firms fuel the property sector. Over the years, it has enabled various realtors to line up with market shifts. About 62% of realtors think that business process outsourcing is a must.
Besides back-end tasks, BPO firms offer expert help in other business activities. In real estate, a huge sum of data needs to be keyed. It can be tedious and time-consuming, even for experts. So, outsourcing these processes to a BPO company makes sense.
BPOs also provide you with better insight into market trends. They can help you make informed decisions about how to price your properties. In addition to helping you sell your properties, they can help you avoid losing money on properties that are not worth what you're asking.
Does Your Real Estate Business Need BPO?
If you're a real estate agent, you might wonder if your business needs BPO. BPO services can help you streamline business processes. For Instance, documentation is a complex task that requires detailed-oriented skills and a high-speed encoding process into CBM tools. 
It's vital to ensure that all property listings are accurate and up-to-date. BPO real estate services are valuable for helping you maintain the accuracy of property listings, as errors can make a bad impact on the value of your properties.
However, in order to hire external staff, you need to critically assess your business. Do you stress about not getting back to customer calls? Do you have enough funds to outsource a bpo? Does your brand need a 24/7 presence?
BPO companies can also help you streamline your processes by engaging extra help to manage hard operations. Outsourcing your business can give you more time to focus on selling property and closing deals. It can also manage the marketing of your properties and help you identify the right clients for your properties.
Digitech Outsourcing Solutions– A Leading BPO Company
Bpo companies have been helping various industries succeed around the globe. It saves you time and enhances your business operations. A good company can handle all the tasks in the best possible way. You are now aware of the extent and role of outsourcing in the growth of the real estate world. Let's look at a sustainable option for your firm. 
Digitech Outsourcing Solutions (DOS) has over 20 years of experience in the industry and can offer a reliable solution to any real estate business. We provide you with a team of experts who are apt at handling real estate operations, esp. the customer care unit. They team up with you to personalize the support service as well. We are just one click away. Let us know what you are struggling with, and let us handle it for you. 
For More Details: