Outsourcing has become a normal thing in current times. Businesses of any size can avail of these services without any hassle now. Brands need to provide matchless customer service for ultimate success. Service providers mostly target small and medium companies that do not have enough budget but want to deliver a quality customer experience.
Having easy access to these third parties does not guarantee a great experience. Just because the BPO market is stuffed right now does not mean everyone has perfect expertise. You have to make careful decisions in order to see the desired outcomes. 
Are you considering outsourcing your support services for the first time? We bring this blog to inform you about the pitfalls your brands need to avoid for having a sought-after experience. We will explain the setbacks in detail and provide your team with a solution.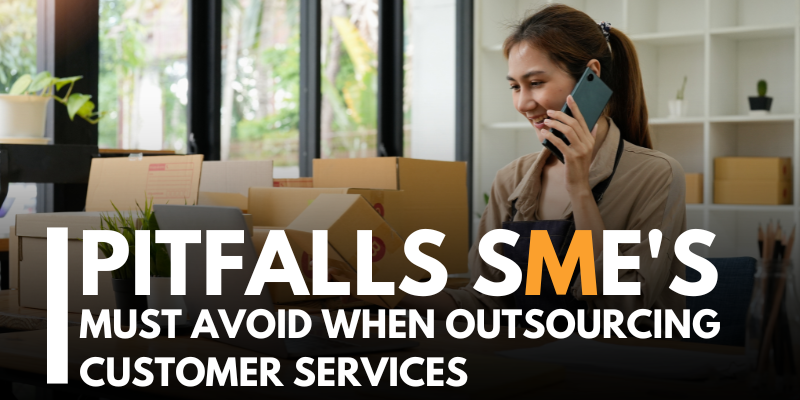 Pitfall # 1: FAILED MANAGEMENT SKILLS
Many companies often mismanage the team and resources when hiring customer support outsourcing solutions. There are various things that businesses need to take into account, such as a helper to assist agents with complex tickets. In addition, you also need a person to manage scheduling and time off. Not only that, but managers need to ensure that reps are using the right channel to handle customers along with other core things. 
Your responsibility increases with additional customer service agents. Your brand will not see reap profits if you try to lead without a thoughtful approach. So, a supervisor is required for your outsourced team to ensure everything is being handled productively and well.
The Management Solution:
Select an outsourcing partner that is flexible in structuring team management. It means whether you can appoint your own manager to oversee the external reps or ask the company to provide you with one. Further, agents need to be kept updated with product changes to ensure smooth customer dealing.
On the top, BPO companies also provide a team lead who tracks agents' metrics and works closely with the reps to improve the CX. It is wise to let your outsourcer assign a manager if your team exceeds more than five people. Anything less than that is easily manageable on your end. Those with a real sense of management aim for brand success and help you grow seamlessly.
Pitfall # 2: POOR ONBOARDING AND TRAINING STRATEGIES
Businesses that outsource customer support should know that the first rep added to your team acts as its pillar. So the initial training provided to your outsourced employees has to be meticulous. In-house team members acquainted with the brand style must help these new agents with complex support tickets. Otherwise, you will only end up frustrated if those recruits do not perform well.
You can consider hiring an outsourced team despite not having properly stacked tools. Most of the time, the BPO agency informs you of the facets required for an effective team launch. In addition, having a manual and practicum in the process will only strengthen your relationship with your service provider.
The Onboarding Solution
Managers should record the high-volume customer chats and think of a way your brand can relay the workflow to your external reps. Companies should model the onboarding program for BPO agents as they do for the in-house staff.
Do you know that BPO companies also offer to assist you with document management and store them in the LMS? It is often added to your basic service plan; however, you might be charged for extensive help.
Time Zone Training – 

Brands mostly outsource 

24/7 customer support

to work during the night, so no prospects go unattended. Having multiple training programs for different teams is an excellent idea.
Updated Manuals – 

Execs should also have the latest documentation in hand to help reps with onboarding. Those with insufficient time can take help from the internal knowledge base to start working as soon as possible.
Q&A Sessions – 

Arranging weekly or bi-weekly Q&A sessions are also impressive to increase the knowledge and clear any confusion a new agent has. Not only the reps, but sometimes it also introduces team leads with new queries.
It is smart to connect your programs with that of the service providers for an exhaustive training model. Together you can make a model that will benefit the reps hired in the future. 
Pitfall # 3: IMPROPER KEY METRICS CONTROL
Many brands outsource their customer support processes due to the ease with which they can scale up or down their team. The number of tickets one handles daily while managing the average response time is crucial in building a successful team.
Many do not understand it and end up with over- or understaffed teams, leading to high costs with backlogs. Being unaware of it defeats the entire purpose of hiring outsourced help, to begin with. So if you have figured out these two key requirements, the customer service provider will assess your consumer flow throughout the year and offer a plan that fits your needs.
The Metrics Solution:
Firstly, it would be great to determine the helpdesk trends from the last few months to a whole year. In addition, finding your workflow forecast with the marketing team for the next two quarters would be incredibly helpful. Finally, updating your outsourcing partner with the learned data will allow them to strategize a suitable plan for your brand.
Do not ignore your reports and make monthly or quarterly visits to ensure that your business meets the service-level agreement, defined budget, and end goals.
Pitfall # 4: LACK OF A SCALABLE QA SYSTEM
It is not news to know why many businesses prefer to have an in-house QA team while growing. As your brand grows, you need to equip your team better as a significant ratio requires engagement. You can't keep on hiring staff to review these tickets, which will affect your quality assurance methods in the long run.
That is one of the key reasons companies, especially SMEs, turn towards BPO agents. However, it is equally crucial to measure their performance. No one is perfect, and even the best of reps can make errors. Therefore, hiring a quality QA team will help you with gaps that need improvement. You need to take corrective actions on time to retain your customers and increase their overall satisfaction. Give your best customer service reps the appreciation they deserve and use their tactics to empower the other members as well.
The QA Solution:
The first thing for having a seamless QA program is the ability to keep up with scalability. It does not matter whether it is an in-house or outsourced team; the scalable plan is what matters the most. However, an excellent outsourced team will share the best way to progress with the right QA system for your brand.
You can take the benefits of your BPO provider to help your QA with an extensively devised rubric. You can also integrate the QA score with CSAT, NPS, and other metrics. It will inform you even in more detail about how each rep is doing and where improvement is needed. This is the last step that you need to bear in mind to make sure your team is on the right path.
Hire DOS to Level Up Your Business:
Outsourcing is the best thing that can happen to a company if used correctly. Business owners believe that service providers only help with customer service in a conventional way. However, that is not true. BPO companies have years of experience in different markets and bring versatile expertise to the table. From handling buyers to managing the CRM, you will find yourself with more than the required features.
Digitech Outsourcing Solution (DOS) is the leading BPO name that empowers your business with picture-perfect support services. Our solutions are active round the clock to make sure you handle customers 24/7/365, especially during the holiday season. Moreover, you can also hire our multilingual reps that will take care of your global drive smoothly.
We advise using our free trial to familiarize your brand with our operations. In the end, your satisfaction is what matters. So, tailor your support service plan with our experts for a seamless journey. We craft a CX found nowhere. Join hands with us for a strategic partnership.
For More Details:  7 Ultimate Tips to Improve Your Customer Support Services