Brands are seeing an increase in the number of customers reaching out. No one uses the phone to get in touch until it is serious or requires a proper answer. So it is important that your live answering service are up to the mark as you might not get another chance at impressing the same customer. Therefore, companies must try to turn a one-time caller into a regular customer.
Do not take your calls as a customer inquiry but as an opportunity to grow your business. Those who understand the importance of customer communication can increase their consumer base. It is not about interacting but how the communication takes place. Agents need to make every call count, and therefore, we bring a few practices you can implement to improve the overall phone experience of a prospect or old customer.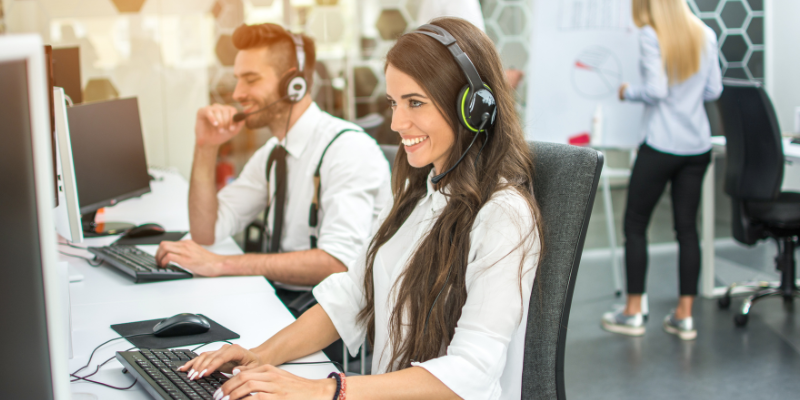 Etiquettes To Learn For Improving Live Answering Services: 
Do you often wonder why businesses are outsourcing phone support? What makes them the best? These agents are proficient in customer dealing. You yield profitable results and satisfied consumers with the help of outsourced reps. However, we have tried breaking down how they deal with a customer to help you boost your company's lifetime value.
Training your customer support team is incredibly essential. It takes a lot of effort, but nothing is impossible. So to make the customer experience better, read the below-given tips:  
 

Identify Your Call

 

Use a Friendly Tone

 

Maintain Your Pace

 

Speak Enthusiastically

 

Seek Permission

 

Win with Confidence

 

End with a Thank You
1. Identify Your Call: 
The first thing you need to do when you pick up a call is to identify it. Next, agents need to determine why someone is calling in the first place. Once you are aware of the reason why a prospect or customer is calling, you can steer the rest of the conversation accordingly.
The best answering service is what handles the caller with a sympathetic tone and shows your brand cares. For instance, you might get a call from an existing consumer who is having an issue with your product or service. On the other hand, a prospect can be calling seeking information about your brand or product. So, understand the reason for the call before crafting the customer experience.
2. Use a Friendly Tone: 
Answering your phone in an amiable way really sets the tone of your conversation. Your words should show you are friendly, informed, professional, and would take care of the issue happily. Imagine that the caller is in front of you; it would help you sound warm. It might look weird but smiling on the phone makes your tone quite inviting.
Those calling your company for the first time must be swayed perfectly. Your agents need to handle every issue or caller with a go-getter approach. Similarly, your reps must have a strategic tone when handling methodical matters. Your tone matters a lot, but not everyone has expertise in it and thinks answering calls is it. Answering service for small businesses is a must due to low resources but the desire for satisfying results.
3. Maintain Your Pace: 
Not every caller is the same, and businesses need to understand that. Phone representatives can be very friendly, yet customers might not have time for it. Your team needs to stick to the query or concern in that situation. If you sense that your caller does not have time, match their speed. You can skip all the formal greetings and help them with the matter. You can provide them with short but to-the-point answers while staying congenial.
In contrast, you could also receive calls from people whose first language is not English. So reps must speak slower and carefully with a powerful and clear articulation. You can have a warm talking style, but speaking fast can put them off. Moreover, repeating what they say is a great practice. It will reconfirm what they said, and some people understand English better than speaking. So taking care of the pace makes your live answering services great.
4. Speak Enthusiastically: 
Companies need to speak politely at all times. There could be some sort of distortion, or someone might have a hearing aid. However, you can't blame signals or your customers. You need to request to repeat them nicely. Say, "I am sorry, I am having a little trouble hearing you. Would you please repeat that?" Not only that but use positive words throughout the conversation, namely:
Great

Wonderful

Really

Absolutely

Definitely
You need to maintain the CX while staying positive. So come up with creative ways to keep them engaged while you achieve what you want. However, it is important to stay creative as per your brand's status.
5. Seek Permission: 
Brands need to ensure callers feel they are in control of the talk. Not only make them think it but make it happen too. Firstly, they are the ones who got in touch with you. Secondly, they are your customers. Remember never to assert things but ask them nicely. Do not go like, "I need your address" or "I am putting you on hold." It would be best if you did not sound demanding.
Seeking permission is what gives callers a sense of control. For instance, add, "May I ask?" before every sentence or ask, "can I please have your address?" Customers will feel in control and would love the experience. Brands stay online throughout the day with 24/7 answering services. No matter what time of the day, you should not forget to treat customers respectfully.  
6. Win with Confidence: 
The most important ingredient to successful communication is confidence. Your customers will know that you are knowledgeable and understand what you are talking about. Show them they have the best office rep handling them who can take care of their issues. 
There is a difference between blind and deserved confidence. Well-versed agents know how to handle every conversation. Your team needs to handle the situation in the calmest and most informed manner possible. Remember that you will ace as an agent as long as your confidence stems from your knowledge about your products or services. 
7. End with a Thank You: 
You can leave an excellent impression on callers with a thank you. Brands must show appreciation for reaching out and listening to them. Not only at the end, but you can make the conversation pleasing by saying thanks on several occasions. It shows amiability, and the caller understands that you are carefully listening to them. 
Sway with Our Live Answering Services: 
Agents need to maintain their etiquette to make the entire CX better. However, it is not everyone's cup of tea. You can hire already trained reps who know the art of customer interactions. Digitech Outsourcing Solution (DOS) is the artist you need to sway your customers.
Our phone agents have expertise in various industries and take care of your support team perfectly. In addition, we provide 24/7 multilingual support that caters to your international clients as well. You can also use our free trial services to see it for yourself. So reach out to us to personalize your plan with our experts.