Hospital answering services have empowered many clinics and healthcare facilities throughout the world. There are still some concerns prevailing in the industry regarding outsourcing solutions. However, many are realizing its importance and using these services to make the life of patients easy. 
The medical industry is evolving, and you need to meet its standards to remain a thriving name. Empower your facility with the latest technology to be recognized as the best. However, this is quite expensive and can cost your institution a lot. That is why phone support is the best option. It checks all your requirements while staying budget-friendly.  This blog takes a look at the benefits patients receive when your hospital uses medical phone support. So, let's dive into it to empower you as a healthcare provider.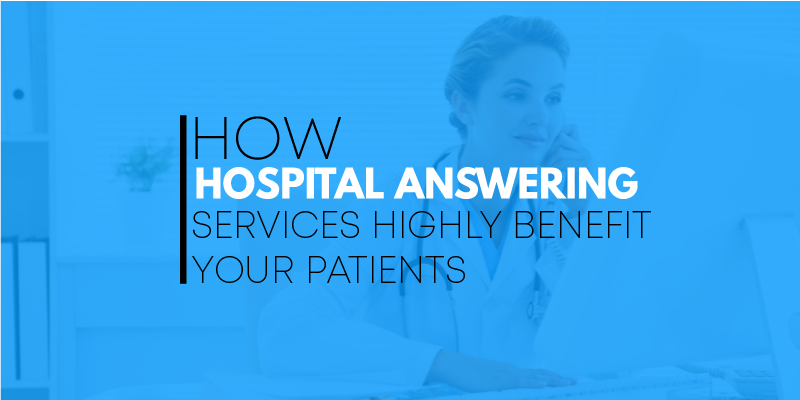 5 Benefits of Hospital Answering Service for Patients
Patient Satisfaction is the Key

Schedule Doctor Appointments 24/7

Improve Patient-Doctor Relationship

Replace Automation with Real Humans

Serve Your Patients Round the Clock
1. Patient Satisfaction is the Key
Hospitals do not have any room for errors. Not only that, but this profession requires quality service with promptness. But, many people lose sight of what really matters and, most importantly, why it matters. Healthcare is all about patients, and there would be nothing left to do if you do not pay attention to the core of your profession.
People do not get sick or face any emergency during a defined time of the day. So hospital after hours answering services  is what you need to cater to patients round the clock. This is where the outsourced team comes in with ultimate solutions. So you will have 24/7 availability while handling customers satisfactorily.
These phone support services organize your patient list and help you run your clinic most efficiently. So you can manage your operations while maintaining patient satisfaction with a service provider.
2. Schedule Doctor Appointments 24/7: 
Your calendar filled with appointments translates into profit. A week has 168 hours, and businesses run about 40 hours weekly. What are you going to do for the rest of the time which you could use for boosted profits? 
You can outsource your phone services to have your clinic running at all times. These answering service operators stay active and handle all the callers 24 hours a day and seven days a week. Your patients will have the satisfaction of knowing that you are there for them round the clock, and they can easily schedule an appointment with their physician.
It is not only convenient for them but you too. Do you not want to know when someone can't make it? Would you not like to know when a patient wants to change their appointment? Obviously, you want to provide them with a platform that makes their life easy but yours easier. You will not have any frustration and can organize your patients better by outsourcing medical answering services. 
3. Improve Patient-Doctor Relationship
It is not an easy feat to develop and maintain a great patient-doctor relationship. Having a strong rapport requires a lot of trust, respect, convenience, and empathy. Everyone wants to have an exceptional bedside manner as it affects your bottom line in the long run. You do not want to be just a healthcare service provider but an experience for your patient.
This requires a lot of time investment, and trust in each other to lay the foundation of bedside manner. This depends on the communication between both. However, most of the responsibility falls on the doctor's shoulders. You need to have a reliable hospital call answering service that causes no hindrance whatsoever.
You need to partner up with a reputed service provider that not only provides affordable plans but meets your needs impeccably. This relies mainly on how clear, efficient, and well-versed your customer support team is.
4. Replace Automation with Real Humans
Many people go after cheap services to cut expenses, which results in costing you a lot down the line. We strongly advise you not to make this mistake as it will break your medical facility in no time. You have the responsibility of saving lives. You can also save them with reliable services. Do not employ bots or automated machines as it prompts disbelief in patients, whereas the entire profession works on doctor-patient trust. So, drop that cost-conscious attitude and think about your success in the long run.
Hospitals might save a few bucks, but the effect it has on your patient list is unimaginable. Your patients require a personal touch, and all that automation does is replace it with impersonal replies. Your patients want to feel heard. They need an empathetic ear on the other side of the phone. Moreover, they are already going through a tough phase, and finding voicemail or bots on the other end will add to their frustration. Not only will they lose their temper, but they will take their business to some other healthcare center.
Do you want to be one of those who lose patients over a few dollars? This game is beyond money. As we have mentioned above, the satisfaction of a patient lies above everything. You do not want your patients to turn to other physicians. So instead of losing your business, hire a proficient phone service provider.
The outsourced team knows how to handle people warmly. They provide touchpoints that compel them to stay with your business. In addition, they have a plethora of knowledge and experience in this field and will retain your patients effortlessly. Not only are they cost-effective, but they also handle everyone warmly. So add value to your team with phone support agents.
5. Serve Your Patients Round the Clock
Hospitals need to understand why round-the-clock services are a must in current times. A new disease – like COVID-19 – is taking place every other day. We are seeing an increase in road accidents. Many are falling victim to environmental causes. Life is getting busier and more dangerous. Doctors have taken a Hippocratic oath, and you need to provide a seamless phone line to deliver on your duty.
Businesses are emphasizing on 24/7 availability, and the medical profession is one that works on the same. From HOs to senior physicians, everyone is responsible for others' lives. However, not everyone can reach a hospital immediately. Some need a bit of advice on the phone, others want to book an appointment, and many want a quick resolution. These are done on the phone, and if your call line is not up to the mark, you are causing inconvenience and causing distrust in your patients.
Hire a competent team of support agents that handle your medical institution on your behalf. Now you will not lose out on people while these agents take care of your operations. This is why you should start considering having a team of outsourced experts.
DOS Brings Most Reliable Hospital Answering Service
Having outsourced help is the smart way to run your operations smoothly. However, this is impossible without a reliable service provider like Digitech Outsourcing Solution (DOS). We, at DOS, make sure to provide you with multilingual 24/7 phone support services. Our medical answering services are affordable and give you a complete experience. You can use our free trial service to test how our service works in line with your healthcare system. So discuss your requirements with our professionals to find compatible phone support. Reach out today for satisfying BPO services without burdening your wallet!