Businesses know that time is equal to money in the finance industry. Virtual Assistant does not matter what you are working on, be it accounting or insurance; you need to complete a lot of chores every day. Employees can't finish tasks and attend calls at the same time. Therefore, financial representatives need outsourced agents that help simplify the process for meticulous results. 
You will not last long if you keep burdening yourself with tasks. You could have some external help with your administrative responsibilities. So that is why you require an answering service that will help you manage as well as increase profits at affordable rates.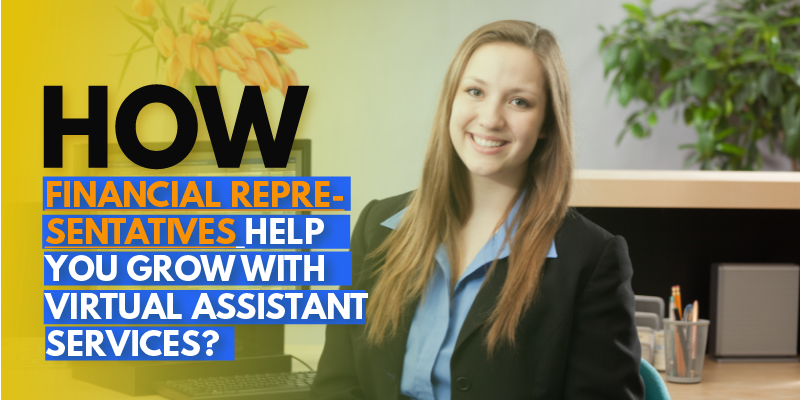 Why Financial Representatives Require Phone Support?
Before we delve into Virtual Assistant's main benefits, we will take a look at how it differs from in-house receptionists. First of all, you must remember that these virtual assistant are not automated machines but humans. So you can rest assured that real people are handling your business.
One of the main and obvious differences is the place where both operate. An in-house worker would be present at your office, whereas the virtual one would work remotely from their home or in their own personal office.
Virtual receptionists not only provide financial answering services but also manage everything a normal one would. For instance, your company requires only a standard support system, whereas others might need scheduling or customer data collection services. So it caters to the requirements of all businesses.
Its benefits do not end here as it is more cost-effective than in-house receptionists. You do not need to employ them full-part and avail their services only when required. So it takes care of the cost you spend on salaries, perks, and other overhead expenses.
5 Key Tasks Financial Services Representatives Handle
Your finance professionals do not have room for error. You can't let the data slip through while you are busy handling phone calls. For this very reason, answering services for businesses exist. So no matter the call volume, your Virtual Assistant will take them professionally and make sure to generate qualified leads.
The benefits of virtual financial reps are various. So, let's explore some to find you what you are looking for:
Manage Realtors' Call Volume

Let CPAs & Tax Experts Focus

Ease Investment Managers' Lives

Satisfy Clients with Mortgage Brokers

Generate Leads with Insurance Agents
1. Manage Realtors' Call Volume
The life of a realtor is more hectic than one can imagine. They have to check properties, coordinate with contractors, and run marketing campaigns to ensure they stay on the radar. This market is wild, and one has to utilize every means necessary to remain wanted. So you can't stay at the office and attend all calls while you already have a lot on your plate. However, you can't also afford to lose big opportunities while being focused on other tasks.
This is smart to hire virtual receptionists who will manage all the call load while managing lead qualifications. You can provide them with guidelines for call screening and sharing the crucial information that is a must before forwarding an agent. Moreover, these Virtual Assistant manage customer data, add notes, handle CRM, and help you increase your consumer base.
2. Let CPAs & Tax Experts Focus
The life of financial representatives is spent with clients discussing tax, savings, investments, and confidential account statements. You are not a business but a partner to your clients. So you need to communicate effectively and maintain that trust. It is even worse when the tax season comes.
CPAs and tax professionals do not need to bear the entire weight of calls and other customer care channels. You need to spend your time on time-critical financial papers and leave answering tasks to outsourced teams. You will receive a plethora of benefits, which are as follows:
Intake on prospects

Schedule appointments

Capture leads

Handle FAQs

Store data
Its perks are way more than we can mention. So, hiring a remote receptionist offers a surefire way to increase your client list.
3. Ease Investment Managers' Lives
Investment is a sea of crazy people that shakes the market now and then with a great magnitude. Many people depend on you with their future on the line. Those who have invested are always concerned about their money and will not spare you even for a second. So, not being able to attend their phone right away can cause doubt, eventually leading to lost clients.
No matter whether you are a startup or a giant, there is an answering services for small businesses too. All of your concerns are now handled efficiently with Virtual Assistant. Your clients will hear a warm and calm voice on the other end, knowing your company is present there. Moreover, you can provide your agents with a script or enough details about your business that they handle callers effectively.
Time is the key in this business. Now you can devise new investment strategies or pay attention to your proposal without any hassle. So have the best advisors on board and start enjoying hefty leads.
4. Satisfy Clients with Mortgage Brokers
The mortgage industry is laden with people confused about a lot of things. It does not matter whether you are dealing with a serial refinancer or a prospect, having financial representative answering services is the best idea. You can hire experts for call screening and fast issue resolution. No one will wait for you if you are unavailable. So avoid sending your business elsewhere with proficient phone agents.
You need a reliable partner that takes care of common questions of the mortgage industry. You must familiarize them with loan policies and other important details. Not only that, but you receive empathetic callers that provide a cordial touchpoint for better results.
5. Generate Leads with Insurance Agents
Not only medical but other professions can also receive emergencies. So, you can't keep your insurance company active only for standard office hours. You will find more customers and turn them into leads with 24×7 answering services. Provide your clients with an all-inclusive experience with your insurance reps.
Outsourced teams take care of your business as their own. They will note down the important details and share pressing problems. They would route them to the specific department and make the entire process smooth. So, these are important for storing prospects' data in the CRM perfectly.
DOS – Your Qualified Financial Representative
Every business needs to maintain its finances to grow properly. This is something that has no room for error. A single blunder can cost you a customer or more. That is why it is the wisest to outsource these tasks. We do understand your needs and bring the best virtual receptionists to make your life easier.
Digitech Outsourcing Solution (DOS) is not a provider but an extension to your business. Our agents are proficient in multiple languages. In addition, your company will run 24/7 to grab all the prospects and turn them into leads. You can also use our trial services to learn about our business better. So it would be great if you got in touch with our team to find a compatible, personalized Virtual Assistant plan. Our affordable services are what you need in today's competitive and pricey market.