With the market progressing rapidly, staying relevant has become a distant idea for many companies. Businesses have to understand the concept of working smart rather than hard to not only meet their goals but stay sustainable. Outsourcing solutions are becoming a part of every business with time.
Customer service is evolving, and you need to have the right partner to provide people with an exceptional CX. Customer experience holds great importance for brands, and outsourcing partners help businesses build that and sway consumers in the most refined way. However, not many still understand it, and therefore, we bring this guide to help you know everything you should about this solution. We will answer all the how, why, pros, cons, and more to help you make an informed decision.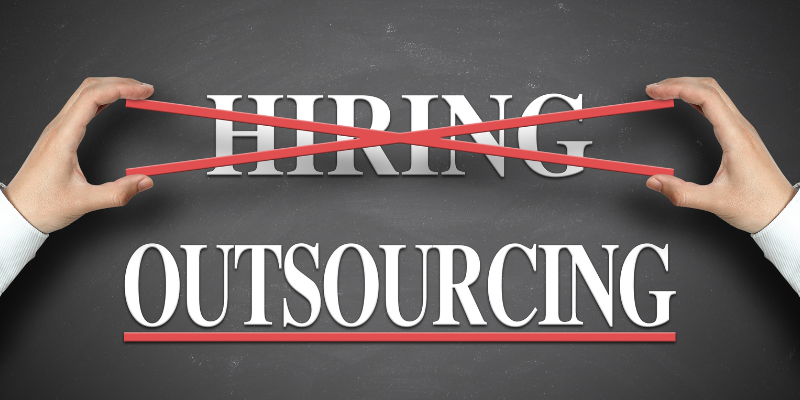 Why Should Businesses Hire Outsourcing Services?
Gone are those days when third-party support was a rare sight. Everyone nowadays has a service provider smoothening their processes. It is a wise move for companies who want to scale but are on a limited budget. This has come as a blessing for small and medium companies, which now experience sustainable growth.
Different factors come into play when you consider outsourcing customer support services. One of the main reasons is cost-efficiency, which is great for SMEs. Not only do you save costs but also find time to handle your main operations better. Service providers offer a flexible proposition and strategize plans in line with a business' needs. From technical issues to holiday season peaks, outsourced agents are there to help your firm grow.
The Types of Customer Support Outsourcing: 
Companies need to figure out the type of outsourcing they require. Every business is different, and so are its demands. So to meet your needs, we have dug up the most used support plans. Let's take a look at some of the choices to meet your needs:
Dedicated or Shared Representatives: 
Those brands with less customer volume and are not aiming for personalization can consider shared support services. These reps work for multiple companies at the same time. Then again, complex customer interactions that require an extensive understanding of one's product, services, and business knowledge should go for dedicated service agents. Those who are focused only on your brand will tailor each CX and boost your retention rates and customer satisfaction (CSAT).
Omnichannel or Multichannel: 
Omnichannel support allows brands to provide customers with a uniform experience through integrated touchpoints. On the other hand, multichannel is about offering support services across a number of communication channels. So, it is preferable when the customer volume is not that high with limited channels. However, omnichannel is the best option if your brand has to communicate with customers on various devices, channels, and touchpoints. So, weigh your needs and go with one that fits them.
Onshore or Offshore Teams: 
When contracting business support services, you need to figure out your needs before deciding whether you need an onshore or offshore team. Determine where your audience is located, what language is preferred, the cultural diversities, tech infrastructure, time zone, etc. Once you figure that out, see what serves your business better. You can also find bilingual agents with a local outsourcer that work according to your customer base's time zone. The beauty of BPO is that you start running your brand flexibly. 
The Key Benefits of Outsourcing Solutions: 
Service providers are making a lot of noise for a number of reasons. So we have broken down the main perks a brand mostly looks for. Following is the list you need to consider before signing up with an outsourcer:
Budget-friendly: 

Managing overall costs is the main thing on the mind of many businesses. A 

BPO service provider 

flaunts affordability as their main feature. There are multiple things that are overseen by your providers, such as recruitment, training, QA, infrastructure, wages, and more. Many businesses can feel the difference prominently. SMEs save a lot by bringing a provider on board. 



Efficient Team: 

Building a team is one of the toughest tasks. It takes a lot of time to find the right talent, and the right one also costs a lot. What if you find them, spend proper time on their training, set expectations, and bring everything in flow, only to find out they quit in a few months? It does not only waste your months of effort but also brings instability to your workflow. That is why outsourcing is a good option, as your provider is responsible for everything and also has a backup on its end.  



Manage Resources: 

It is not news how challenging customer support is. Your brand has to work consistently to build strong customer relationships. It requires a lot of time and effort on your end. However, no business can direct all its focus on customer services and has to handle the core business activities as well. Those with limited resources can take a lot of the burden off their shoulders by outsourcing their support team. They will manage your support operations and help you scale quickly with surefire strategies.



24×7 Availability: 

Your company handles customers round the clock throughout the week with service providers. 24/7/365 is one of the major perks of 

outsourcing solutions

. Businesses that are open at all times see an increased number of customers. Also, you do not want to spend much on an additional team that stays operational overnight. The best option if you want flextime is a third party that serves your consumers as their own. Whether for live chat, email, or phone support, you will find reps of all expertise there. 
Practices to Follow When Working with Outsourced Agents: 
The importance of customer support is understated. We have learned about its benefits, but how do you know you are hiring the right partner? Are you aware of the outcomes of going after a cheap option? An inexpert will break your brand in no time; therefore, we bring a few things you need to keep in mind to find the best outsourcer:
Define Your Business Goals – Determining your brand goal is of significance when trusting a provider with your operations. Set your vision and find how your provider's processes align with your mission. Describe the outreach you aim for, your budget, the expected average response time, and everything required. Set your goals and work together to come up with a reliable plan.
Train Your Outsourced Team – There is no doubt that outsourcing partners are skilled in training their agents. However, no one understands your brand voice better than you. So, taking control of the team and preparing them yourself is feasible. Train them thoroughly, so they feel like a part of your team. In case you have an offshore team, discuss the cultural and linguistic differences and monitor them to iron out problems and fill any gaps. Do not treat them as outsiders but as an extension of your in-house team.
Hold Regular Meetings – Staying connected with your outsourced reps is crucial; avoiding them will ultimately affect your company. So hold regular meetings, take updates on current tasks, inquire about issues they are facing, and provide resolutions to ensure smooth working. Listening and providing feedback help companies go a long way. Build a relationship with your outsourcer to see your brand flourish.
Hire DOS' Outsourcing Solutions for a Rewarding Experience: 
Customers expect a surreal CX more than ever from a brand, and a slight inconvenience can push your business off the hill. Outsourcing is surely a smart decision, but only when you have a trustworthy partner. So Digitech Outsourcing Solution (DOS), which has rave reviews from different businesses, is what you need. DOS is a good choice for multiple reasons, such as:
24×7 customer support team

Multilingual support agents

3-5 days' free trial

Personalized service plan
Our team works to ensure your brand receives only positive reviews. Our strategies are devised to boost your satisfaction and retention score. Let's meet the challenges of the evolving market together and build a successful front door for you. Call us today and share your requirements with our experts only to find the best plan that suits your vision.