Being a doctor is the most dutiful and responsible job ever. This profession does not allow room for mistakes. You need to be available round the clock as people always experience problems. Medical answering services take your burden off with proficient agents that attend to patients 24/7. You know every other physician works about 60 to 79% weekly. Your saviors can't perform well when they are not fine themselves.
Doctors are regarded as superheroes, but they are actually humans themselves. From meeting to administrative tasks, an individual can't handle everything on their own. So, we will explain the benefit of outsourcing to a service provider that not only takes care of callers but also helps in community outreach activities. So, let's waste not any more seconds and dive deep into it: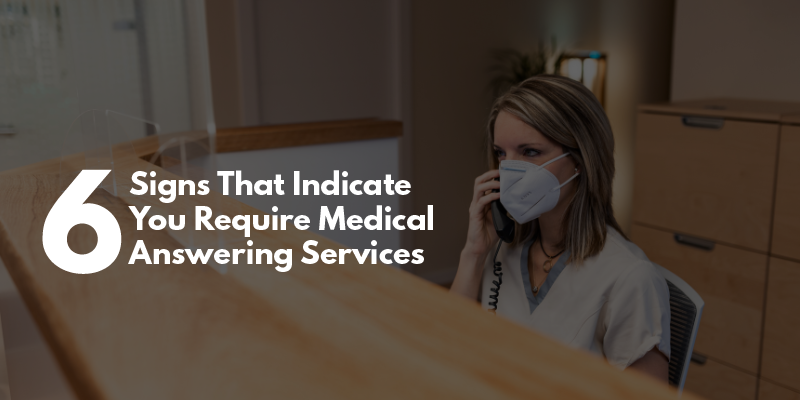 6 Signs You Need Healthcare Answering Services: 
   

For Startup Clinics

   

When Losing Patients

   

Out-of-Control Budget

   

Seasonal Diseases Physician

   

When 24/7 Becomes a Necessity

   

Lack of Communication with Bilingual Patients
1. For Startup Clinics: 
A study revealed that the United States might experience an estimated shortage of between 37,800 and 124,000 physicians by 2034. This number includes both primary and specialty care. So, there could never be a better time to start your practice with a new base of patients.
Those starting out need to know the best technique to bring in a more extensive base of patients. However, managing your budget is one of the essential factors in thriving as a starting healthcare. Many are hiring the answering service for hospitals, and you can also jump on this bandwagon to benefit from it. This is the best possible way to save time and manage your overall costs. 
These services make sure that patients do not waste time with voicemails. Instead, an actual agent will listen to them and provide assistance in real-time. So it eventually expands your ground with more patients.
2. When Losing Patients: 
Are you among those who are losing patients? Are people going elsewhere for their sufferings? Unfortunately, there is a high chance that many are not able to reach out to you. When patients can't get through to your office, they will feel a wave of frustration. The patient is already sick, or someone wants help for their loved ones, and finding no doctor at their disposal adds to their pain.
Answering services for doctors offices are quite essential in appointment scheduling or rescheduling the same along with follow-up calls. So you need to turn those non-existing numbers into sustainable patients. So if you are not getting any patients, what is the use of having resources and paying them a hefty amount for it?
That is why hiring phone support for your services is important to pave a smooth path for your clinic or hospital. It will address your increasing list of no-shows as well as cancellations.
3. Out-of-Control Budget:  
Answering services for medical offices provide an easy way to manage the budget. It is one of its main benefits when you are experiencing out-of-line business costs. For example, you can't afford to pay for an after-hour team or spend a lot on a full-time receptionist. That is why outsourcing is a preferred way to save costs on your support system.
With inflation on the rise, every business – especially SMEs – needs to save a lot on expenses. Startups are hard to sustain in today's challenging times if you are not careful enough. Outsourced companies handle the hiring and training of your workforce while you focus on your core medical operations.
You can get access to a highly-trained team without spending a lot. Moreover, it is the most effective way to deal with a high turnover. Not only that, but it also shows that you can have talented people on board who are experts at versatile tasks.
4. Seasonal Diseases Physician
: 
Not all clinics or physicians want medical answering services throughout the year but during busy times. For instance, a breakout like COVID-19 happened earlier. In that case, you require an extra hand to keep your operations running smoothly. You can ask your service provider to provide you with as many reps as you require.
Contrarily, you might need to reduce your business hours and do not want full-time employees. For example, you work only late evenings and want someone who can only for that period. So you can get a HIPAA compliant virtual receptionist from any service provider without paying full-time to any resource.
So you can now be available for your patient at all times without any hassle. Gone are those days when you had to keep workers available all the time with extra pay. The flexibility these services provide not only makes your business better but also saves you a lot of time and money.
5. When 24/7 Becomes a Necessity: 
Physician answering services are a must when you are drenched in workload. As we have mentioned earlier, round-the-clock availability is one of the major perks of hiring answering support. Phone agents work 24×7 to make sure that your hospital is catering to patients at all times. People can face an emergency at any time, and you should be available for them as you took the Hippocratic oath. 
It is more important for those who are starting out as you can't spend your resources on the support system. You need to use them wisely to expand your medical house. Healthcare is a very sensitive profession, and you have to work smartly to treat patients as well as your facility better.
You can't even take a break thinking that nothing will happen. Life is very uncertain, and you must be ready to serve patients quickly. That is why your facility must be open to handle after-hours emergencies too. You can't have excuses like power outages or faulty lines with bpo services and medical answering services.
6. Lack of Communication with Bilingual Patients:
Health does not discriminate between caste, creed, or color. Any person can get any sickness or find themselves in an accident. How will you be able to help them if you can't understand what they are saying? That is why you need to have a bilingual or multilingual call agent. It not only helps people but also comforts them that you are there for them.
For people in the US, medical answering services in New York or any other state must offer English as well as Spanish reps. However, the number of Spanish speakers is increasing, and you can cater to people of all cultures with a service provider.
DOS Helps with Reliable Medical Answering Services: 
Healthcare needs to maintain their support system as well as keep their patients. In this age, you need to provide an all-inclusive experience to everyone for their betterment. You can't afford to stay behind with outdated systems. That is why it is wise to hire a third-party service provider.
Digitech Outsourcing Solution (DOS) brings the most reliable phone services for hospitals. You will find 24×7 live call agents that are also proficient in multilingual support. We got the solution to all your problems here. Explore our free trial option to check how our services fit into your system. You can also personalize your answering services with the help of our professionals. So get in touch to find the most affordable and efficient service package.