Live chat has made the lives of billions easier with instant communication access. Chat support services are an integral part of any business plan now. Customers in today's time seek only fast and helpful replies. Anything less than that will reflect on your company, and not in a good way.
Many studies were conducted to find out how live chat extensively boosted conversions and recurring customers. As long as you are providing real-time support to your buyers, you will experience ultimate success. It has helped many consumers during the purchasing process, and one can't do business without it anymore.
Everybody knows the countless benefits of live chat, but do you know how you can use it to improve your customer experience? This tool is more than just for communication. So, this blog takes a glance at five ways to boost your CX.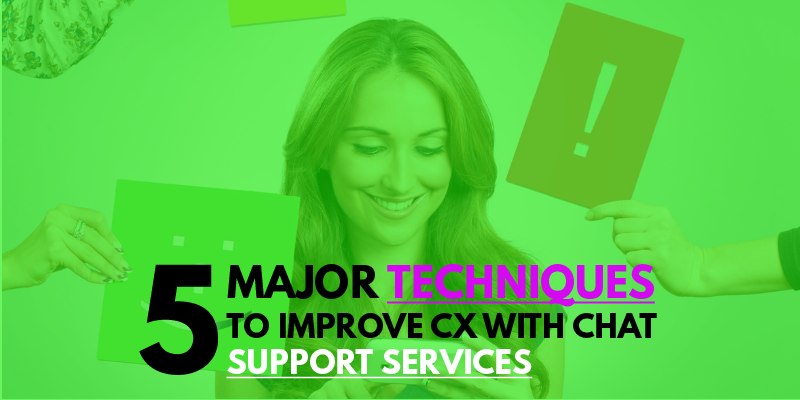 5 Ways Chat Support Services Improve Customer Experience
Businesses need to understand how an unparalleled CX results in higher sales. A consumer always returns after having a nice experience with a brand. Not only that, but people also recommend your brand to their friends and family. These words spread like wildfire and bring in more business for you at the end of the day. However, there are a few aspects you always need to keep in mind to boost customer satisfaction (CSAT) for consumer base expansion.
Adopt a Transparent Stance
Provide Undivided Attention
Maintain Attitude of Gratitude
The Art of Chat Engagement
1. Adopt a Transparent Stance
Do not see a conversation as a mode to communicate only. Instead, take each chat as an opportunity to leave a lasting impression. You can make your brand by adopting an honest stance with your customers. There is no shortcut to success. Also, you need to entrench in your mind that you will not get another chance like the first one to home a place in customers' hearts. 
Your agents should interact transparently and unleash your potential in every conversation. However, if any of your agents are unaware of the required solution, they must be open to transferring to a more informed person. Trying a bogus solution will not look good on your career. 
Team leads or managers should monitor their reps' performance. You can quiz your reps and use any other training format to help them reach their potential. An agent must be calm enough to handle any situation. Your behavior is what lays the foundation of your customer service. 
2. Help in Any Way Possible
As we have talked about earlier, it is not possible that an agent will always have the answer to everything. There is no shame in directing your customers to someone who has the solution. You can take a few a minute or so to search for the solution. However, you should recommend sending an email if you still do not find an adequate answer.
It is smart to initiate a support ticket when you can't help the customer in any way. You can flag it as urgent and help your customers in any way possible. The main point here is to help consumers. Your customer would not have been there in the first place unless the help was needed.
There are live chat support companies that make sure that chat reps know the escalation process to resolve all issues in the ongoing conversation. That is why many companies prefer hiring outside help to cram teams with numerous people. So, be helpful to users at all times.
3. Provide Undivided Attention
Unlike phone calls, a single representative can handle multiple customers at once. Good ones are capable of handling about four or more customers simultaneously without dividing any attention. Obviously, it comes with a high level of training. Outsourced agents are experts in these areas, and one must consider them rather than handle everything on their own.
No matter what, your support team must make consumers feel important all the time. Sending late replies or not providing proper solutions also counts as poor treatment. Customers do not have much tolerance and will take their business to your competitors.
What you can do is measure the turnaround time of each response to make sure your clients feel attended to. Moreover, you can also use canned messages to handle the situation more efficiently. Not only that, but 24 7 chat support can also help customers by staying available round the clock. You need to assess and designate only those who can handle it masterfully. It is better to leave it to professionals like third-party vendors.
4. Maintain Attitude of Gratitude
Attitude is everything when you are working in a support team. Chat agents learn the conscious habit of expressing gratitude on a daily basis. It is an antidote for irate customers. You can neutralize the situation with a warm attitude. Your tone decides the fate of your conversation as well as your business. 
Your attitude plays a significant role when interacting with consumers. But, there is a difference when it starts looking corny. You neither have to overdo nor underdo it. It is all about leaving psychological impacts. It is what turns them into recurring shoppers. A customer dealt nicely with would return feeling important. So, your chat support services team should not take this power for granted. You know you can also incorporate it in your canned texts. It is essential to express gratitude in every chat. Do not sound robotic but casual. Your success lies in your attitude.
5. The Art of Chat Engagement 
Chat agents are the master of engagement. Some people are proficient in it while others have to learn it. Unfortunately, there are high chances that your representatives are not born with this gift. So, there are a few guidelines that you must use to interact with users.
Your agents must practice the following rules:
Listen attentively

Inquire probing questions

Familiarize with your products or services thoroughly

Prepare to provide insights

Pay attention to customer problems

Use proper conversing language
So you are not only helping customers with an engaging conversation but also yourself. You need to train your chat reps to help them stay relevant. In addition, your team must learn the art of chat engagement. If it all feels like a hassle, outsource your services to a reputed provider.
Become Popular Among Your Customers with DOS
Live chat has become a need of the hour. This need is not about only integrating it but using it to its full potential. From generating leads to storing information, you can do a lot with chat support. You can try to perform all the aforementioned steps, but the most brilliant way is to outsource it for a great customer experience.
So if you want the best partner in your customer care system, Digitech Outsourcing Solution (DOS) is here. Our chat agents are proficient in various languages and handle customers smoothly. We know how to serve them best. We understand the know-how of customer interaction for a lasting CX. In addition, you can discuss your business requirements with our specialist and find a compatible support plan. We bring cost-effective chat support services to foster better customer relations. So what are you waiting for? Get in touch with us right away!