Are you among those who have uncertainties about phone support outsourcing? This is not a new thing as many companies can't decide whether to trust a BPO agency or staff up the office. However, hiring many in-house employees will put a lot of burden on your budget. This might seem scary, but the benefits a BPO company brings are worth it. 
Taking care of your customers should be your utmost priority, and if you can't get this thing right, you will stay stagnant. Outsourcing solutions help you maintain your image. This blog will take a look at the five things you need to consider when hiring phone solutions, along with five signs hinting at outsourcing needs.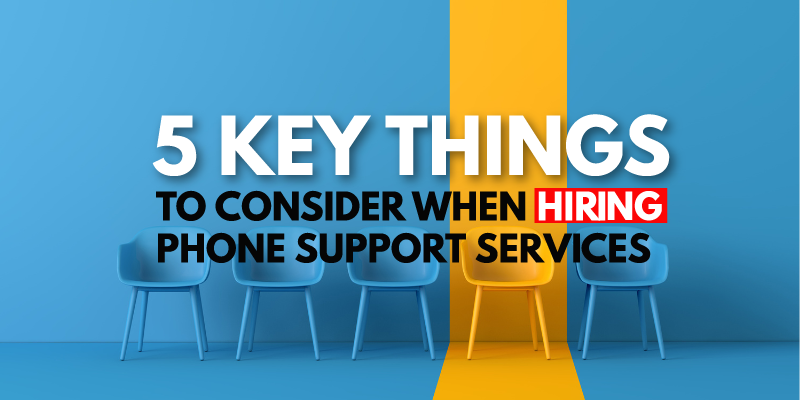 5 Things To Look For When Hiring Phone Support: 
Answering services have come as a blessing for companies that require a trustworthy and reliable team to grow exponentially. Unfortunately, trust is not an easy option when it comes to business. So, company owners require a BPO company that takes care of their business as their own. We will take a look at five things you need to consider when looking for phone answering services. 
Go with Experience

Shared Values

Quality of Outsourced Talent

Outsourcing Partner's Market Reputation

Pay a Visit to Provider's Office
1. Go with Experience: 
Experience is everything in the business. You can't hand over your tasks to an amateur or incompetent company and risk your business. So it is crucial to find a company that has a reputation in the market and is known for its services. Looking at their portfolio with satisfied clients will tell you whether the agency you are considering is worth it or not. Companies working with a BPO partner for years is a good sign that you can trust them.
Having an industry expert on board will not only satisfy you but make the entire process smooth. You will not have to worry about risking your business with an inexpert. In addition, asking for referrals and looking for testimonials before signing a contract is a good practice.
2. Shared Values: 
Hiring a team that has the same values as your company works wonders. First, you need to learn the way your service provider measures success. When both of you work together, your business growth becomes a guarantee. So, thoroughly review your phone support provider's mission statement and vision to see if their core values align with yours. Discussing everything with your BPO company makes your path to success easier. You need complete satisfaction before investing your time and money in a third-party provider. So, find someone with shared values.
3. Quality of Outsourced Talent: 
You need to understand that your business is as good as the service provider you hire. Understanding the level of quality your outsourcing company delivers is very important to how your business runs. You can't go with just any company and expect to see results. You need to give proper time and attention to your contractor before bringing them on board.
So it is a healthy practice for your business if your executives sit to learn about the recruitment process of the outsourcing company. It is helpful in learning about the workforce your call center services provider has to offer. You can choose the talent of your choice and assign them tasks to make the most out of your hired services.
4. Outsourcing Partner's Market Reputation:
It all eventually comes down to the market reputation when hiring a BPO company for your phone support needs. You will notice one thing that all the excellent companies are quite easy to work with, and their quality speaks for their services. In order to make the best choice, it is a must to go with a company with a positive reputation. As we discussed before, talking to the previous and current clientele will help you put your trust in the right third-party phone service provider. Those with experience will have a lot of reviews that advocate for their services.
5. Pay a Visit to Provider's Office: 
Although many outsourcing companies are working from an offshore place, if it is reachable, then you must pay the facility a visit. Visiting them is an excellent idea to learn about your provider's operations. You can interact with their teams and choose the team that you want for your phone processes. Do not worry about the time and traveling you need to do as the satisfaction it brings can't be put in words.
Drop in on your service provider's facility to take a closer look at their work ethics. It will give you a feeling of already being a part of their team. However, this is not a must, but performing this thing will only result in a better understanding of your outsourcing partner for your phone support services.
3 Signs to Consider When Hiring Phone Support: 
 No Time For Core Operations

To Ensure Consistent Quality

Surge in Agent Turnover
1. No Time For Core Operations:
Employing people that have nothing to do with your core but secondary operations is both pricey and difficult. You do not want to spend a lot on picking up calls when every other person can perform it. This is where answering services come as you get a pool of talented people with enough expertise. Find a team that can handle your customers efficiently while giving you enough time to focus on your core operations. This is a cost-effective approach that positively affects your budget plan in the long run. You do not only save money but your time as well. Gone are those days when you had to take time out to hire and train your recruits. You just need to contact a reputed answering support service company and find your business working productively.
2. To Ensure Consistent Quality: 
Maintaining your business quality is not a walk in the park. So when you feel stagnant or can't maintain the phone service quality, you need to outsource your customer support. You can't delegate these tasks to your in-house team as they already need to pay complete attention to key business functions. Not only do you find time for your main activities, but outsourced teams boost customer satisfaction (CSAT) to give your callers the value they deserve.
3. Surge in Agent Turnover: 
No one understands better than you the amount of time you put into hiring and training your call agents. You do not only lose your reps but also the months and years of effort you have invested in your workforce. So when you experience a high rate of agent turnover, it is a sign you need an outsourcing company in your life. Their agents will keep your business running without any hassle. Even when an employee leaves, the service provider is always ready with a replacement.
Contact DOS For Your Phone Support Needs: 
Nothing in this world achieves success alone. For example, there is a team in sports that wins the championship, there are many actors in a move to make it a hit, and there are editors and publishers behind an author's book. Similarly, you also need a partner to rely on to take your business to the top of the market.
Digitech Outsourcing Solution (DOS) is the partner you need to win the market. Our phone support agents understand the current market and use top-notch strategies to satisfy your callers. We turn your callers into leads and then into sales. Are you worried that you do not have enough resources for your requirements? Do not worry! Our experts analyze your needs and personalize a service plan that matches your budget and requirements.
So what else do you need? Reach out to our live phone service specialists and power your business with us.