Businesses now have to decide between an internal team or an outsourcing company before starting a new task. It has become the need of the hour for many companies in current times. The benefits it brings to the table are undeniable. It includes cost efficiency, improved results, less risk, and high-end protection. It has become a blessing in disguise, especially after the COVID-19 pandemic.
You will find many service providers in the market but choosing the right team is paramount. It has a profound effect on your revenues and brand reputation. You can't afford to make a mistake when choosing an outsourcing team. However, we have dug up a list of things you need to consider to make the perfect decision.
Below are the things you need to keep in mind while looking for a service provider. These will not only help you find the best team but give you a competitive edge in the market.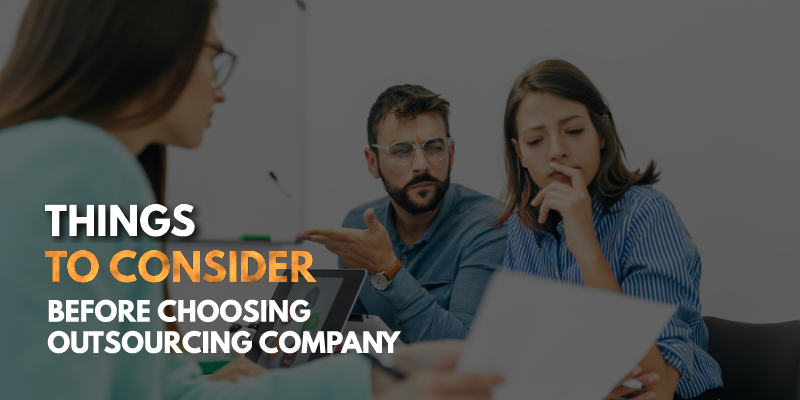 Weigh the Resources and Technical Support for Best Practices:
First of all, you need to check whether the team providing customer support services is experienced enough to take on your tasks. You also need to check their resources in line with your development processes. It is important that the team you outsource to is proficient in tech support and has pertinent skills.
Outsourcing majorly includes remote working, so your company needs to check if your service provider is competent to oversee remote operations without any hiccups. You should assess the team on technical knowledge and their know-how about the advanced tools. Moreover, you must confirm if they can handle complex situations and are passionate about your line of work.
The outsourcing company you hire must have the latest technology that will assist in giving an optimal experience. Those with the modern tools influence your bottom line, resulting in higher revenues. If you keep all these things in mind, your outsourcing process will be smooth as a sail.
The Aptitude to Meet Project Deadlines: 
No one wants a team that takes forever to complete a task. Being fast and accurate are two of the USPs of an outsourced team. Hiring a company that delivers everything timely without sacrificing quality is vital.
If you do not give enough importance to this aspect, then be ready to face its consequences in the form of a poor reputation among your competitors. Similarly, you need to bring a team on board that has good brand value in the market.
The company you choose must know how to meet deadlines. For instance, contact centers are always on the line and can't afford to miss any call or deadline as it hugely affects the business. This aspect is of great significance, and you can't overlook it. So, get a team that is excellent at meeting targets and deadlines.
Hire a Reliable Outsourcing Company: 
If you can't have faith in your support team, you will be able to deliver an impressive CX. You need to ponder over a few points to determine the reliability. An unreliable team will bring nothing but catastrophe to your business. Its impact is beyond imagination as you would lose big on your costs and time.
You need to visit your third party or talk to them several times before hiring them. It would be great to run an online background if you are recruiting an offshore team. You have to leave no stone unturned because you are trusting someone with your business operations.
Many companies offer a trial option without charging you anything. You can try their services for a few days to learn their processes better. It is always to take precautionary measures, even if they cost a bit, because spending some is better than investing a fortune.
Your team should evaluate the infrastructure, tools, talent pool, alternatives, and more for a better picture. It not only reaps trust but also improves the relationship with your service provider.
Open Versatile Pathways to Communication: 
If you are an international brand, then you must know the problems concerning the communication gap. You can't stuff your workforce with various employees, each one expert in a different language. Therefore, it is seen as the most viable option to hire an outsourcing team as they have several agents proficient in different languages. You could employ a BPO call center that would have a huge staff list with the languages you are looking for. 
It would be great to familiarize the service provider with your requirement, so they bring what you need. Not only are proficient speakers, but these companies also have tools that help without affecting the pipeline.
Please learn that a thorough understanding of the business requirements is fundamental in ensuring no delays. That is why we emphasize having seamless communication with your outsourcing company. There could be geographical hurdles, and you require a team that utilizes modern approaches to put your business in the limelight.
Run a Market Check on Your Service Provider: 
No business in this world ever compromises on the product or service quality. You can't bring a team on board that does not properly address issues or meets your expectations. However, you can make sure by evaluating your outsourcing affiliate's market value and reputation. You do not want to sign a poor service provider only to bear their losses on your company's account.
Many websites help you with checking the reviews about any corporation. You need to rely on these sources, but make sure these are authentic ones. If you are still unsatisfied, it would also be great to reach out to their previous clients and inquire about their experience. Any company with a great track record is the one you should bet your money on.  
Go with an Innovative Team:  
You do not want to hire people with mundane and tedious ideas. Hiring a creative team will put your brand out of the box. These teams lead your business with contemporary market trends and bring ideas that will benefit you more than imagined.  
You have already considered the aforementioned things, but this one is what gives you a unique business touch. It is what takes your brand from ordinary to exceptional. Therefore, hiring the right team with the best vision, tools, and training is your best chance of ruling the market. 
DOS – A Visionary Outsourcing Company: 
You always have the choice to depend on your in-house team, but the points mentioned above have proved outsourcing mettle. It is more important for startups and those with not enough resources. You want to spend smartly, and spending on an outsourcing team is the wisest decision.
Digitech Outsourcing Solution (DOS) brings a plethora of customer support services to give your business a push in this saturated market. From live chat, email outsourcing and phone support to virtual assistants, you will find everything here. We take care of communication gaps with services in more than 10 languages. Moreover, our reps work round the clock, so you are up 24/7. We assure business growth and boost efficiency with our highly-trained specialists. So, reach out to us with your requirements and receive a personalized business plan.