The world is waking up to the value of investing in customer support experience optimization. It is no secret that in this day and age, if you want to be successful, it is crucial for your company not only to increase conversions but to offer a great customer experience. The global business community recognizes its importance, which includes interacting with customers and improving brand loyalty. 
In today's market, not what you make but how well you serve your customers will set you apart from the competition. Chain into loyal consumers with one-of-a-kind experiences using omnichannel platforms. We will now look at what CX optimization is, its importance, and the way to optimize it.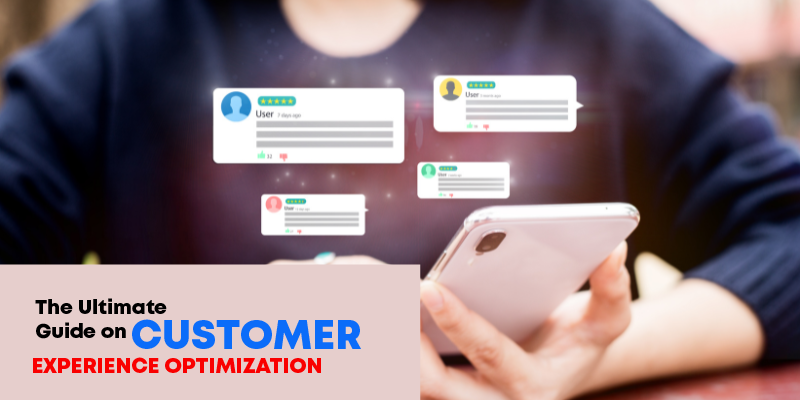 What is Customer Support Experience Optimization?
The CX is a complete, interactive relationship between you and your customers. CSRs are on-hand to help with any problems consumers may face while using your products or services. You need to find the right balance between what your customers expect and what your brand can afford. 
CX optimization is all about finding the best ways to satisfy your customers' needs as quickly and efficiently as possible. It does not stop at just one point; you have to look at every detail from start to finish to provide the best customer support possible. It helps you provide what they need without sacrificing value and driving the business to success. 
The Significance of CX Optimization:
The market is constantly evolving, and knowing how to operate in the current age has become quite important. The days of customers being satisfied with anything are long gone. Today's online users have access to various advanced tools that provide quick results. It is vital to match business goals with customer expectations and drive persistence and retention.
There is nothing quite like delivering an experience that includes simple, fast, and customized services to create value. After all, these things will keep consumers coming back for more. Experience optimization aims to shape customer support interactions by focusing less on touchpoints like billing and more on creating a positive overall impression.
5 Great Ways to Optimize Your CX:
Understanding the journey your customers are on will help you better comprehend their needs and desires. The first step in this process is learning what they want and how they want it. Then, explore ways you might bring yourself closer to meeting those expectations by adding more levels to the current customer satisfaction plan.  
Let's take a look at the top five ways you can improve your customer experience:  
 Determine the Purchasing Behavior
 Organize Training Sessions
 Serve the CX on Smartphones
1. Learn How Customers Feel: 
Customers are base creatures who spend much of their time on the internet looking at products and making decisions. It would be best not to make deductions when learning their behavior and preferences because it can be misleading. So, asking them how they feel about your product can help you better serve future clients.  
You can use an online survey to get the full picture of how your customers feel about their experience. This will help not only support service but also many other departments within a brand to perform thorough customer experience optimization. 
2. Plan a Road Map:
The more information you have on your customers, the better. Every touchpoint a customer has with your product should be recorded and compared to the entire data. Document every place they come in contact with one of your products and match that up to data from surveys or analytics tools for an accurate understanding of their needs as well as yours. 
You can improve the CX at each stage by understanding why they are there in the first place. Also, find out what will make them feel better about where they currently stand with regards to purchasing from you. Once you learn what makes up a customer's experience, it is time to map out your own. Use this knowledge and start optimizing for a better experience at every step on their path.
3. Determine the Purchasing Behavior: 
Knowing what your customers are hoping to achieve with their purchase can help you optimize efficiency in delivering that value. The faster they realize this is not just another marketing campaign, the more satisfied and loyal your brand can make them about your products.
You can use the following ways to collect insights:
Interact with your customer support team to learn why buyers are frustrated. 

Inquire the success team about the steps to measure the success and what is relevant to your audience.

Share what drives customers to sales with the sales team.

Assess the surveys and understand what your consumer prefers.
The key to improving CX is optimizing each step of your buying process.  
4. Test and Train for Improved CX: 
There are many ways to make your customer support more user-friendly, but customer observation is one of the best methods. Brands can observe how actual customers behave when they use their products in order to understand what drives them and why they do certain things. It will lead you down a path to designing an incredible experience for everyone. 
You can use the customer testing and session recording to improve the overall CX. For example, if users are not browsing a particular webpage despite the push and guidelines, you should try the same with other modes to engage more people.   
In order to optimize business outcomes, we must understand what makes our customers tick. You can design a successful product by exploring and learning the main elements of a customer's interactions with your product. Use the right features to continue and get results faster. 
5. Serve the CX on Smartphones:
Creating optimized customer experience across all channels can be challenging, but companies need to do so. Your website needs functionality and design to respond appropriately on mobile devices as well. It will create responsive sites that help you reach more audiences. 
Customer service is about making sure that everyone is happy with what you offer. So, it makes sense for there to be no difference between how they navigate your app or website on a desktop computer or smartphone. Allowing people the option to access all the features while browsing through your site on any device will add to your CX.
Perform Customer Experience Optimization Successfully with DOS:
The key to delivering an exceptional CX is not an easy feat. It requires time and knowledge of your customers for you to succeed at making them happy. It is what decides whether your business will stay afloat or drown. However, if all of this feels like a hassle, you can outsource your tasks to Digitech Outsourcing Solutions. 
DOS brings unique and premium live chat support outsourcing solutions that provide a stellar CX. Our agents work round the clock and perfectly cater to your buyer's needs. They store information accurately, respond fast, manage customer relations, and work hard to provide for your brand's needs. 
Understanding your users and their behaviors is an essential step to optimizing the customer experience. So leave everything to DOS and relax. Our proficient agents are there to handle everything and take your business to the top of the market. So reach out to use and share your requirements with us. We will craft a plan that will sit flawlessly with your business needs.