You could have a hard time getting around the town without any taxi call answering service to help you out. With more ridesharing services than ever before, it is up to drivers and transport companies alike to provide quality care when helping riders and customers.
While it is easy to see how picking up calls is tedious and time-consuming, passing up important business will harm your reputation. With the advent of outsourcing, you do not need office space or staff. The best way of providing excellent service without any incurred costs? Set yourself up at one of these call centers where professionals handle everything from transport scheduling to resolving their issues.
We will take a look at how these services can help your cab business grow while staying within your budget.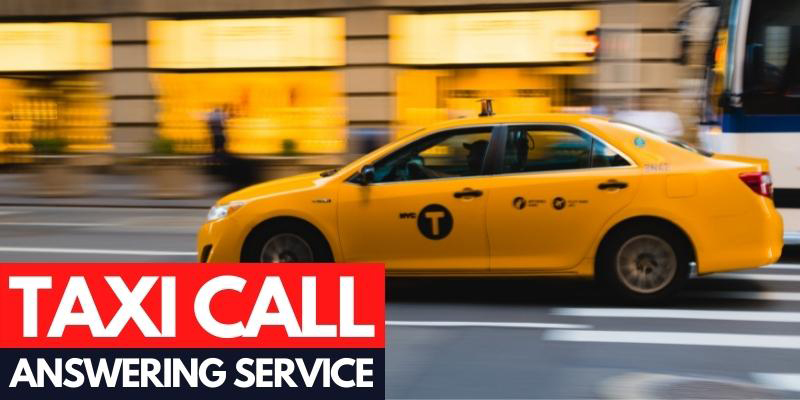 How Taxi Call Answering Services Help Your Company? 
The transportation industry is a competitive one. You need to offer your customers more than just good service to stay afloat. They demand high-quality care and solutions at affordable prices. There are always new ways for companies like yours to find ideas for how your workforce gets around the city.
We know how important your drivers' well-being is to you, which is why you need a team that takes care of the phone calls for them. So this way, they can focus on their passengers without worrying about making horrid customer service-related mistakes while driving. So, your business needs a phone answering service team who can take care of all the calls as it irritates passengers when the driver is on the phone while at the same time dropping them off.
Your customers are your top priority. With taxi and shuttle call center services, you can focus on the people in front of them while taking care of everything behind the wheel. You can always rely on a phone service provider no matter what time of day it is. They are available 24 hours a day and will handle your calls with ease.
The Key Benefits of Hiring a Call Answering Service: 
The taxi industry has been around for a long time, and it is not always easy to come by. It faces an additional challenge that you can't always rely on your cab company being there all the time. That is where taxi answering services come into play. They make sure everyone has access to transportation no matter what time of the day or night. Not only that, but they are great with issue resolution in a professional manner.
Following are a few benefits of hiring cab phone services:
24/7 Availability: 

In a world where nothing is certain, taxi service should always be on call. Cabs are needed at unpredictable times, and these outsourced teams will have you covered for whenever your next trip arises. Taxicabs are the ultimate in flexibility. You can always get one when you need it, no matter what day or time.

Handle Multiple Calls: 

There are thousands of dispatchers across the country who have witnessed an increase in their workloads. With so many calls coming through, it is hard for them to keep up and maintain quality service with patience, empathy, and attention.

 

You will never be overwhelmed with calls again when outsourcing dispatching services. 

VIP Services: 

The better you take care of your clients, the happier they will be with their service. That is why call answering services are so important. They make wake-up calls and other friendly reminders to VIP customers to ensure a fantastic trip from the start to the end.

Backup Support: 

If a natural catastrophe or power outage strikes, people will require transportation more than ever. To handle the volume and streamline the operations, you need an external team of experts.

Personal Touch:

When you need to provide customer support, it is important that your clients are getting the individual touch from someone who knows them and their needs. Delegate this responsibility with care by hiring a professional team for this task.
You are an absolute brain, trust it when it comes to planning. Think of the possibilities with taxi call answering service.
Do You Need Call Answering Services for Your Business? 
The call-handling services are a great way to increase your business' success. This is because you get access to qualified specialists and their years of experience and knowledge to help you achieve more with less effort.
Professionalism: Your call will be handled by a knowledgeable customer service agent who has experience with international companies. These give your business exposure to global reps that professionally handle everything.
Affordability: There is no need to keep a dispatcher active during dead hours just in case someone needs assistance. With an outsourced call service, you only pay when they answer your phone and start working.
Promptness: Let's face it, nobody likes to be on hold. With a 24-hour call answering service, you will not have any of your clients getting restless on the other end while stuck in traffic or taking care of things elsewhere. Your incoming calls will get answered by experts who understand their importance.
The Significance of Taxi Call Answering Service: 
It is imperative to have the right tools for success in this industry. Your cab company needs top-notch service and quality to stand distinctively in the market. To ensure your customers have an excellent experience, call a reliable company like Digitech Outsourcing Solution.
You will never stress over missing another call with our team of specialists. We are committed to ensuring that your calls are answered in a timely manner so you can get back on track and focus for the day. We have ample experience in this industry and know how best to handle your business's needs so that nothing falls through the cracks.
With our call center for taxis and shuttle services, you can reduce your staff's work time while simultaneously increasing productivity. DOS call centers make life easier for both your clients and staff. Our services are unparalleled and affordable as compared to an in-house team.  
Why Choose DOS? 
We have been a pioneer in the call center industry for years. From managing calls and scheduling appointments to providing value-added services like outsourced customer support, we offer solutions to help your business with everything.
The taxi industry is in need of a serious upgrade. The recent easing up on customer service has left many people feeling frustrated, but there is hope for them yet. With DOS' help, you can transcend your passengers' expectations with quality services at any time. Moreover, you can avail our free trial option to test our taxi call answering service.
If you are looking for a reputable call answering service, look no further. Our proficient team has the knowledge and skills to provide excellent customer support in all areas of our business. We are a one-stop shop for all your taxi needs. You never have to worry about being left in the dark when it is time to call a cab again because we are here.
We have seen how having answering services for your cab business can help you grow in an unimaginable way. So weigh your requirements and give us a call to start experiencing success in no time.