Real estate agents of all shapes and sizes face a common challenge when handling inquiries from every direction. Imagine calling in only for an unhelpful answer or being put on hold while waiting anxiously and listening repetitively before being disconnected completely. You need exceptional real estate answering service that are simple enough to handle all your daily calls and provide complete support to callers.
Communication is the key to success these days, and it is imperative in an ever-changing market like ours. But you can't neglect your phone calls. They should be a part of every conversation from this point forward. So do not leave them out just because they are not as flashy or active as social media platforms.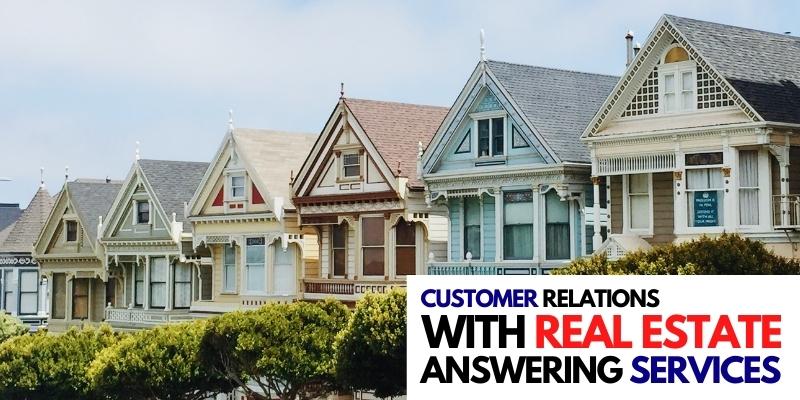 As more and more companies start to integrate phone support into their marketing strategies, it is vital that you keep up with all your channels. This means not only making sure the content is flowing through each one of them but also monitoring when engaging customers or potential leads on this network.
We bring various benefits and reasons why your business needs phone support in today's time.
Top 5 Benefits of Real Estate Answering Service:
The property market is becoming tougher with each passing day. You need to engage in all possible communication channels to reach a wider audience. However, the phone is the most used and preferred channel in this industry. Those looking to spend a lot want the satisfaction of an authentic human voice with a warm touchpoint. So, let's take a look at some of the top benefits of outsourcing your phone support:
Treat Every Caller Valuably

Respond Quickly at All Times 

Have a Reputed Market Presence

Be Available 24/7

Handle Everything Affordably
1. Treat Every Caller Valuably:
You might think you are doing everything right and still not getting the results you want. Maybe it is time for a change, or maybe there is something about your business model you are unaware of. The beauty of having an answering service comes from their ability to take care of both new inquiries as well as ones already listed that have been attracting interest.
Many opportunities will knock at your doorstep with phone support. So avoid passivity on call and have someone ready when those unknown numbers start ringing. They will likely turn into known buyers soon enough with some guidance. So, take every call as value with these outsourcing solutions.
2. Respond Quickly at All Times:
Prospects are busy people and do not have time to wait around while you answer every phone. Rather, they will just try each number on their list until a real estate business helps them. If you want to impress with your customer service, ensure your caller never has an issue connecting with you.
A professional call answering service will leave clients confident that there is no need for them to search elsewhere because their problem has been taken care of with excellent customer service skills.
3. Have a Reputed Market Presence:
There are many benefits to hiring real estate customer services, such as projecting the right image to your customers. A good provider will give you ample opportunities and chances to train the team accordingly. It is vital that when they answer phone calls from prospective clients or even current ones with any concern, all parties involved feel welcomed and well-taken care of.
4. Be Available 24/7:
Homeowners, sellers, and buyers all have a lot of questions that need answering when looking for new homes. With an answering service, you can be open 24/7, whether during your lunch or after hours. These teams take care of any inquiries on behalf of you, regardless of the time zone and place. So you will always have your finger on the pulse for any inquiries that come in about listings in your territory 24/7/365.
5. Handle Everything Affordably:
Do you need a receptionist but do not want the cost or trouble of handling another employee in-house? A phone answering service is a perfect solution for those looking for a more cost-effective way to have an agent. With low prices and flexible scheduling options, you can tailor how you want it without any hassle on your end.
The number of people who have hung up on voicemail is surprisingly high. Calling businesses can be an absolute nightmare if you are unprepared. The best way to stay on top of your game and avoid missing out on potential customers is by using an answering service for the real estate business. This will allow you to field calls without having to leave home or the office, allowing the customer peace of mind that they are speaking with someone who understands their needs perfectly.
Build Stronger Customer Relationships with Real Estate Answering Services:
The first impression you make on a client will define their relationship with your company. They can make or break your business and personal relationships, but what you say on the phone matters even more. We retain memories when treated warmly by a company. It leads to better customer relations.
While building and maintaining relationships with real estate clients is not always easy, an answering service can act as a lifeline for your business. While there are many different types of services available that vary in cost and quality, they all have one thing in common: keeping your business alive.
The best way for your corporation to be heard is by using call answering service. Agents will spread themselves thin, so you can find what works perfectly with your company and how often it needs to be updated depending on the latest developments. In addition, you can cater to various interests, such as how many questions or concerns there are about the property and any other details like pricing information that might help people make decisions easier.
Build Your Company with Our Real Estate Answering Service:
You are now familiar with the benefits of outsourcing your phone services. All the advantages and strategies you need to implement to thrive your business come under a single package. You need to keep our benefits in mind when looking to expand your business and make it more accessible to people.
If you are looking for an engaging experience that will make your clients feel like they are the most important person in the world, look no further than our live answering services. Digitech Outsourcing Solution brings the workforce trained to provide personalized service 24/7. They will answer calls (even unscreened), take messages, or set up appointments as needed while ensuring everything runs smoothly.
Many organizations are unsure whether they need a call answering service or not, and if so, what type of provider would be best for them. Our free trial can help answer these questions with minimal cost on your end. Even if you still have any doubts, you can talk to our experts, who will explain everything in detail and create a plan that sits well with your requirements.
So, if you are looking for a professional, reliable service that can help with your real estate needs, then DOS is what you need. Let us take care of everything, so all you have to do is sit back and relax.