You do not need an actual receptionist anymore. With the virtual receptionist services, you can get all their expertise in one place. You will never miss out on potential customers as a VA is operational round the clock. You can hire one at less cost than hiring someone full-time.
Virtual receptionists are more than just an answering service. They play a crucial role in company growth. This is because communication skills and professionalism go hand-in-hand with their work commitments. They help companies interact effectively, which is an essential quality for any business to have. They can provide an opportunity that is both affordable and convenient, which may lead you down the right path toward success. So let's see how a VA helps your business.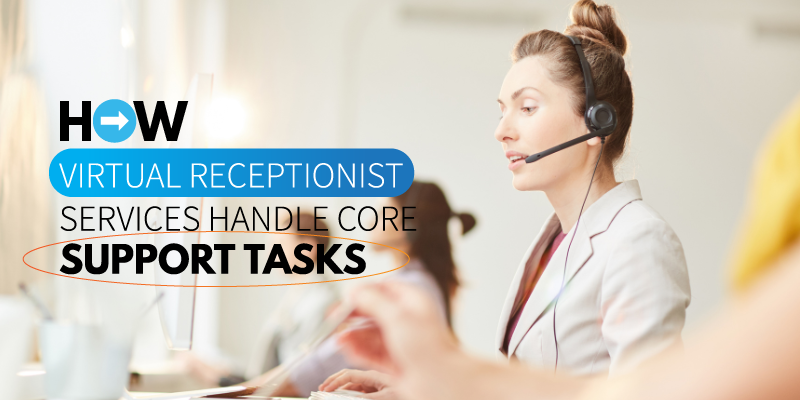 The Skillset Virtual Receptionist Services Provide
VAs are responsible for various tasks they tackle depending on the required skill set. For instance, some may be tasked with bookkeeping while others could do research online, and still, more might need to create presentations from raw data collected by the client's databases.
The best virtual assistants can perform a lot of jobs for you. They are great at organizing your business, making it easier to handle the tasks on hand and get more done in less time.
Some of the core duties a VA handles are:
Handling calls

Bookkeeping

Email management

Thorough research

Event management

Social profile handling

Determine prospects

Drive potential clients  
VAs are the modern-day office goers. They perform all jobs that their customers would generally do in an official setting. However, they can achieve this from home or shared workspace. In addition, a VA has excellent organizing, communication, and multitasking skills. So, it is easier to track clients, interact effectively, use the latest tools, and handle multiple tasks now.
5 Top Pros of Virtual Receptionist Services
These days, more and more businesses are relying on virtual receptionists for help with incoming phone calls and chats. As a result, VAs have become an integral part of many companies' daily operations. They can save you time by sending out necessary information while maintaining customer service quality.
In an effort to save money and time, many companies go with the option of having remote receptionists on board. But what are some reasons that might convince you? Why is this worth your while? Also, how could it benefit you? Let's take a look at the top five benefits:
Maintained Overhead Expense
1. Pay Per Hours
The cost of hiring an in-house receptionist is high. It may seem like a lot of money to invest in one person. However, the money invested in a virtual worker is worth it. You will not have any more staff turnover problems, and you can rest easy knowing that your receptionist is paid well.
When hiring a virtual receptionist, you do not have to cover the benefits or pay high wages. You can get all the help that your company needs without spending extra money on staff. It is quite cost-saving than hiring someone in person. eCommerce business is what needs to stay active all the time and ensure fast responses. So, hiring an eCommerce virtual assistant for this job will not only save you money but keep you running all the time.
2. 24/7 Support Services
Do you ever get to work only to find five different things already waiting for you? It might seem like a pain in the neck when everything starts echoing around. But, it is not always easy. Also, customers do not care what time of day it is. You can receive calls or chats at any time.
However, a normal receptionist would work from 9 to 5 or at a specific time a day. This way, you can lose many prospects if a prospect reaches out outside the regular business hours. In contrast, you will have the peace of mind that comes with knowing there is an answering service available at all times. So you can now provide 24/7 coverage for incoming calls or messages with VAs.
3. Multilingual Assistance
The need for a bilingual receptionist is becoming more critical than ever. With the rise of global business and trade, many companies now have clients who speak other languages. You can't always translate every other language into English. It means you may require a multilingual employee with a higher wage expectation due to their skill level.
Another way to make your business phone system more effective is by using virtual receptionist services. They can answer many calls for you and identify bilingual receptionists so that people can get their questions answered in the best possible manner. So, it is the most affordable way to have multilingual agents on your team.
4. Highly-Trained Agents
Finding and training a skilled receptionist takes time, effort, and money. You will have to interview applicants as well as post the job ad on various platforms. Also, you need them ready with training, so there is no hassle when it comes down to getting things done. It is a lengthy process where you assess, interview, and train. Moreover, it all goes down the drain when the employee quits in a few months.
You can easily find and hire the best virtual receptionist for your company with a phone answering service. All it takes is choosing from the diverse list of reliable providers who will care for your needs. From scheduling interviews to providing training, no time goes wasted when someone new starts working for you with third-party vendors.
5. Maintained Overhead Expense
The receptionist is the first face that customers see when they come into your business. The position requires a high level of professionalism and comfort with people. It can be costly in wages if you do not already have one on staff. However, you can afford an outside company to handle it for less than what you pay to your in-house worker. Furthermore, you do not have to pay for their desk, power, benefits, and other expenses.
Hiring a remote employee is an excellent way to save money and time. All you need are their skills, which they can provide from anywhere in the world. In addition, you will not have any additional expenses because they have their own workspace, making it easy as a pie.
DOS Provides Affordable Virtual Receptionist Services
The modern workplace is more virtual than ever before, with employees often required to work remotely. As a result, businesses are missing out on potential customers by not having a VA. This is something that can be easily overlooked and impacts how well your company does in the long run, so it is worth taking seriously.
Digitech Outsourcing Solution (DOS) provides VA services for businesses looking at every channel possible to grow their companies. We offer help desk solutions that are cost-effective and efficient while also being accessible 24/7 through chat support or phone calls. You can also personalize your pricing plan with our experts. Not only that, but we make it more accessible with the help of a trial period. So it is time you reach out and streamline your business processes with our competent virtual receptionists.