Inconsistent or unclear billing processes can lead to lost money, customer confusion, and potentially high turnover rates. Identifying the errors with your medical billing services can help you save time and money. It is essential to keep your patients happy, not only with the cure but with other aspects too.
Medical billing can be a tedious and tough task. To help you make the best decision for your facility, we will explore all of the outsourcing's benefits as well as potential flaws. It will make clear whether this investment will pay off or you should look for other ways. So, let's take a look at the most common errors and their solutions: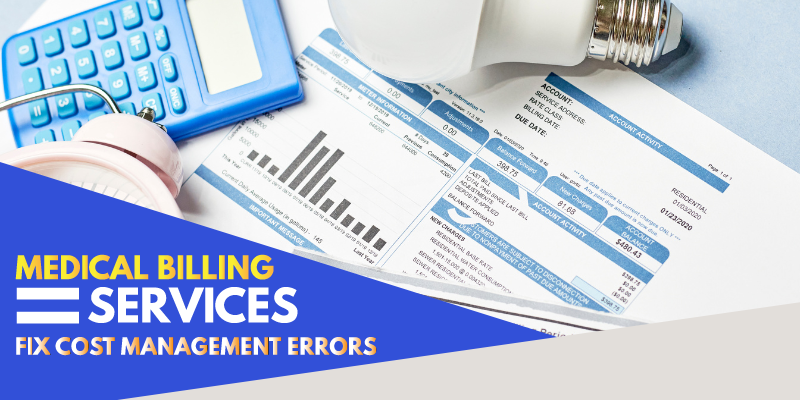 Top 5 Errors to Resolve with Medical Billing Services: 
Inadequately Planned Financial Policies

Inaccurate Data Collection

Untrained Workforce

Lack of Paying Options

Absence of Collection Agency Plan
1. Inadequately Planned Financial Policies: 
There are accounts receivable (AR) nightmares for those who do not plan ahead. A financially-blind company could mean missing vital revenue or concerned patients, which will affect collections and cause issues down the line.
The financial policy is your chance to set the tone for what kind of experience patients should have with their finances. Clearly spelling out expectations will help you build trust in both parties and show them how much they mean to your healthcare facility. It is a place where hands do not only exchange money but also build a reputation through honesty about potential outcomes.
Following are a few recommended actions you must take: 
Define a policy that outlines how and in what ways you collect patient data and process it.

To ensure your patients are always in compliance, you should create a billing agreement they keep on file.

You can use 

medical billing assistants

that document everything and implement the policies in a proper manner. 
2. Inaccurate Data Collection:
Collect all the required user data upfront to avoid slipups and delays. A correct process starts with accurate info, but getting this right from day one is even more important. Failing to collect every piece of data in a visit can lead your team down rabbit holes later on. It is crucial to make sure that your data collection functions are up to the mark as there is no room for error in it. 
You can make the process easier and more thorough with the subsequent steps. You need to make a form that would contain basic inquiries. For instance, it can include address, phone number, email, insurance card details, payment method preference, and others.  
Medical office receptionists are the ones who attend patients first, whether by phone or mostly in person as well. Therefore, briefing your receptionists on how to gather and store data safely is vital. You can hand them these forms, and they can collect the data beforehand, making everything easier for everyone.
3. Untrained Workforce: 
When your revenue run is risked with inefficiency and profitability, the last thing you need is an incompetent team who may make coding lapses or fail to complete ARs. This lack of productivity will cost even more money than if there were professional billers at hand. To ensure your facility's success, you need a team of expert agents who can handle the workload.
Because of the fast-paced nature with which technology changes, your staff handling medical billing services will need to be constantly trained to know and keep up on all the latest tools. Following are the things you need to ponder over:
We all know how expensive it is to hire new employees. However, if you are not careful about maintaining their training and development over time, your costs may rise even higher. 

You can't trust your processes if you do not have the right people executing them.

Lack of training is another huge reason – the more knowledgeable your staff, the better. Regular training will help you share innovations with them and keep up with industry trends.
4. Lack of Paying Options: 
Look into the future with us as we explore how to make paying your bill easier. Improve the CX as well as speed up payment processing time with new tech tools. It also allows you more options to collect payments from those who want it done without any hassle.
Some of the ways you can improve it are as follows: 
Add a "Pay Now" option on your app or website to access the user portal easily. 

You can integrate the practice management process to make billing simpler. 

Users can update their info by accessing the portal.
It is vital to keep up with the trends as people prefer to go with those that offer the latest and user-friendly tools. It is the age of ease, and you will not see the dawn of success if you are not giving what people want.
5. Absence of Collection Agency Plan: 
Using a collection agency plan is not something most providers are eager to do, as they want their relationship with patients intact. However, if the bills go unpaid and timely payment efforts fail, this could be one way for them to help bring in expected revenue while also setting clear expectations.
It would be best if you devised a clear and rich collection policy that briefs patients about the payment or the action that would otherwise be taken in case of an outstanding account. This will not put your plans in place only but also help you organize all the data better.
3 Pros of Outsourcing Medical Billing Services:
By outsourcing your medical billing, you will have access to an experienced team that can centralize and regularize practices. This means a lower cost to run operations as well as less chances of mistakes or compliance problems. Let's take a look at the way outsourcing services add value: 
Affordability: 

Operational costs are an inescapable part of running any medical facility. You want to keep them under control to ensure you have enough revenue coming into your hospital so it can continue providing services and employing staff members. Outsourcing the billing process can help you spend less on training and certification for staff members responsible solely for this duty and give the latest information on regulations.

Productivity: 

Medical billing is a complex process, and finding an outsourced company specializing in your field is essential. This ensures you have fewer mistakes on your revenue with accurate coding or insurance verification. They will be handled by 

expert virtual medical receptionists

or other agents who know how specific medical practices work at their facility level. The more efficient this part of operations gets, the higher the collections.

Compliance: 

To adhere to the regulations of the state, you must have a team of certified medical billers and coders on your side who are trained to understand the ins and outs. The best way for hospitals is to outsource their coding needs to focus more on what matters most.
The list of benefits is more than what one can imagine. You need to find a third party who offers you a free trial. It will help you know about the edge it gives to your facility. 
Streamline Medical Billing Services with DOS:
The billing process of healthcare facilities is integral, and one must not leave any space for error. It is not vital for the institution but also for the patients. You need to outsource your billing services to ensure an optimized experience. We have already seen the things it can do, but it is time to provide you with the best in business.
Digitech Outsourcing Solutions has a roster of reps proficient in virtual assistance and medical phone answering. Our experienced agents are committed professionals dedicated entirely to handling all aspects of finances, from bookkeeping services such as monthly statement preparation to data collection. We help your agency reduce the number of bills that go to collections and increase revenue by following up with customers who are due to pay. We do not limit our clients, and you can use our team as you see fit.
You can talk to our experts to create a plan that fits well as per your billing method. You can also use our free trial to see how our agents work to put all your processes in place. So, get in touch today to find the most affordable plans.
Outsourcing your services is a great way to ensure everything gets done efficiently. You will experience more revenue, better operations, and higher quality care for patients. This is when you become a part of the modern world using the latest tools.