The growth of chatbots and chat support services is undeniable. The power of these tools lies in their ability to provide a better customer service experience than traditional methods. It has fueled the tool adoption by businesses over time. Both provide unique benefits that make them stand apart from one another.
Chatbots and live chat have their own advantages. One is human-friendly, while the other provides a service with an automated approach to customer relations. So, what is best for your business? We have compiled this list of pros and cons to help you choose what your business needs.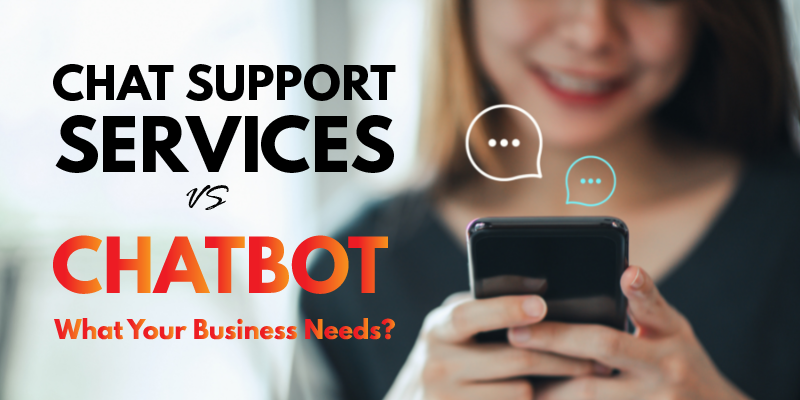 The Importance of Chat Support for Customers and Businesses: 
Live chat allows customers to get answers and quickly interact with a real-life online chat representative. Any user can use chat support, do something else while waiting in the queue and get an agent online to discuss their queries and concerns. 
The impersonality of live chat is a great way to provide customer service. The nature and ease of use make it easier for people who do not like talking on the phone or sending emails. It provides a human connection that customers crave in this day and age. So, many people choose to use chat support for communication rather than phone or email. 
Live chat has become the most popular form of human customer service because it offers an unparalleled experience to customers. Consumers want an instant and accurate response in today's time, and this is what chat support services bring. However, the four main keys of this service are as follows:
Speed

Precision

Multitasking

Detail
Similarly, it is a cheaper alternative to other methods. This has to do with the fact that live chats are easier for agents than dialing into calls, which enables chat concurrency. Moreover, agents can hold multiple conversations at once, which is not possible on calls. It is a great way to connect with your audience on an interpersonal level, and customers who have positive experiences feel more loyal to the brand. It is in every brand's best interest so they can gain happier consumers.
The Pros and Cons of Chat Support Services: 
Live chat is a great way to connect with customers and provide excellent service, but it also comes with challenges. So, we will now take a look at both to help you make an informed buying decision:  
Pros: 
Real agent chats with customers 

An affordable approach to other support services

Easy to specify the

pain points

to smoothen future customer interactions

Chat reps can handle more than one conversation at a time

Interact with consumers and prospects instantly 

Prompt customer feedback 

Answer templates reduce agent fatigue and burnout rate 

Outsource chat support to save even more money than other methods

Increase efficiency by 25-42% compared to other channels 

Customers prefer a human touchpoint, which leads to less frustration
Cons: 
Uninformed and untrained reps can leave a poor impression

Not affordable compared to chatbots 

Possibility of making human errors

Not 24/7 available unless you hire outsource live chats 
Live chat support outsourcing is one way you can save a lot of cost without compromising your quality. It is the most affordable approach to ensure customer satisfaction while improving the overall CX. So, you can weigh the pros to the cons ratio with the following table.
The Pros and Cons of Chatbots: 
Chatbots are great for boosting customer engagement, but they do come with some downsides. So, we will dive into all the perks and drawbacks of chatbots present so you know whether you want it or not. 
Pros: 
Chatbots constantly operate and attract prospects at all times

Manage overhead 

Response time is faster compared to chat reps

Pinpoint the problems that demand human intervention 

Effective in saving time for agents and users alike 
Cons: 
Chatbots might come off impersonal to customers

It can experience bugs that affect the CX

A poor script can also leave a bad impression as chatbots have to follow it no matter what

You need to modify the bots from time to time to tweak the performance 

Customers prefer a human touch, and chatbots can lead to frustration 
Chatbots can be a great tool for businesses with simple customer service needs. They automate transactions and provide assistance that would otherwise take up valuable time from employees to answer each question individually, making it more efficient. In addition, refer to the following table to understand the difference better. 
Which is Better: Chat Support Services or Chatbots? 
With the help of chatbots, brands can offer customers a better experience by taking care of simpler as well as more complex questions. There is no need for live chat agents when dealing with common inquiries that can easily be handled through an automated system. However, in cases where something needs further explanation or assistance, it is wise to let an actual agent handle the conversation. You do not want to frustrate your consumer with automated responses when it requires a higher level of understanding. 
Chatbots and live chats both aim to engage customers, but they approach this differently. Chatbot creators need deep learning of their target market in order for the scripting process to be effective. In contrast, customer service representatives have an experience that can help them adapt on the fly. Real agents have and will always have the edge over bots. 
Chatbots may be the future of customer service, but they are not perfect. So, if you find that most of your users are asking simple questions with easy solutions, then choosing a bot to handle this workload could work well for your business. 
On another note, if people often contact support due to care issues related to either complicated matters or require comprehensive conversation, live chats might better suit them than an automated solution as these types require human intervention after all.
It always comes down to personal preference. We have outlined the pros and cons of both services, and we can see that despite technological advancement, real humans are still the king in every industry. So choose whatever brings you more profit and makes your life easier. 
How DOS Streamlines Customer Support Processes: 
Digitech Outsourcing Solution (DOS) brings the best customer support services to help your business ace the market. You can outsource chat support services to us to see your customer satisfaction and engagement boost up. Moreover, our agents are proficient in multiple languages and stay active 24/7. Our plans are customized in line with your business needs to manage your budget. Also, you can also employ our reps on your business for a few days free of cost. Our trial service gives you an idea of how our support team handles your operations. 
So if you want your customer service game on point, reach out to DOS. Our experts will help you find the plan that ensures your success in the market.