More than 80 percent of brands believe that customer experience helps in growth. However, not many understand it or feel ready to focus on it. Live chat is one way to do so, as it sets the groundwork for success. Chat support for small businesses is a great way to expand and attract your prospects. You need to offer a live chat service in order to start experiencing success.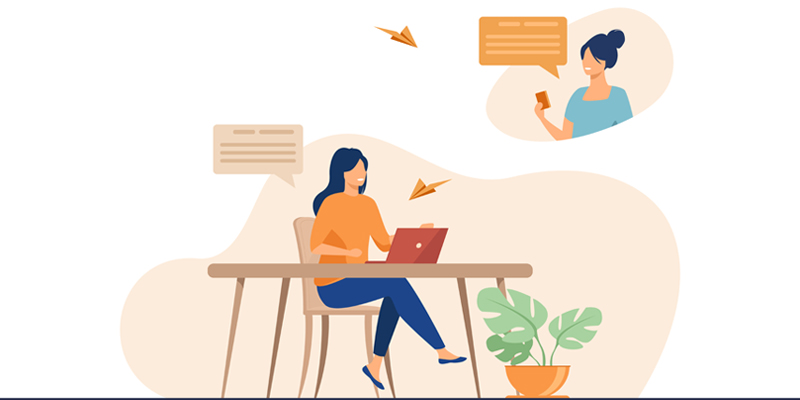 We will see how it is valuable for your brand and what makes it a must-have thing:
5 Things Chat Support for Small Businesses Provides: 
There are many aspects that help you provide a seamless experience to your customer. However, we have put up a list of 5 top-notch features that underline the value of chat and customer support.
Respond to Customers Quickly

Give a Personalized Chat Experience

Power Up with CRM

Handle Everything with Omnichannel

Learn About Customers with Data Insights
1. Respond to Customers Quickly: 
The ability to respond faster and have a real-time conversation with a customer makes chat support the ultimate choice. It provides functionality that other channels fail to afford. Those features help decrease the response time, which boosts customer satisfaction.
Moreover, it also enables reps to handle various chats at the same time, unlike call center agents. So, instead of leaving them on hold, your team can reply quicker to the consumer with enhanced capacity. DOS strengthens live chat as you can handle multiple chat boxes without switching windows. You can further save your time by moving to different chats using a shortcut key.
In addition, you can also reduce delays by using other features, such as canned messages. You can also provide access to all the chat reps, as it depends on whether you want the canned responses public or private.
So, it helps you save time and provide customers with fast and accurate answers. Also, your team can profit from prompt replies while retaining originality and character by setting up personal messages.
Moreover, you should know that live chat also supports using chatbots. You can use this feature when the chat volume becomes too high for your team to handle. It improves your response time and customer support in various manners. It minimizes the wait time by replying promptly and also works to gather customer information. If a live agent is needed, they can enter the chat with all the required details.
Chatbots can handle a limitless number of chats, often without the need for human intervention. This way, agents can have more time to tackle complex issues when bots are handling repetitive and simple concerns. It does not come at the expense of the user experience, and chat support for small businesses helps make it memorable.
2. Give a Personalized Chat Experience: 
Every employee who has worked in sales or support understands the importance of personalized customer experience. Remote working might have a few barriers, but it also presents opportunities for small brands with chat support. You need to know that DOS' live chat services collect all the data across all your channels and integrate it into your CRM. This way, your agents can easily access the information at all times.
You can build stronger connections and provide better support by knowing your users and how you have helped them in the past. But, on the other hand, a returning customer wants not to have to share everything again. So, it would be great to have live chat support as it fulfills this gap between advanced tech and personalized encounters.
Agents can use elements in live chat to deliver outstanding and personalized support. You also get multi-language support that makes live chat wholesome to get. For instance, you can enhance the experience by translating your chat into your user's preferred language. In addition, if you have a multilingual website, the chat interface can be adjusted accordingly to provide a seamless experience.
You can improve your overall support experience, including the way a person reaches out and your agent assists them. You can ensure that your most reliable staff supports your essential returning customers with chat routing. Moreover, you can expand this area to different consumer types or geographic zones, providing laudable service at all times.
3. Power Up with CRM: 
DOS' ability to interface with your CRM allows you to follow up on tailored help and boosts your overall support ecosystem. CRM integration offers live chat agents with data to improve the digital experience to a large extent.
Moreover, when agents interact with new clients, DOS integrates CRM to streamline lead creation management. Finally, when agents help returning consumers, CRM provides additional context to understand previous chats better, allowing reps across support teams to be more consistent.
It also helps your chat reps update details and set new tasks without exiting the chatbox. In addition, returning customers can be automatically directed to their account manager thanks to easy access to CRM fields. That is why chat support for small businesses is the best option without any doubt. You will find everything your brand needs under one roof. 
4. Handle with an Omnichannel Platform: 
There are times when handling a customer through a different channel works out best for you. For instance, to authenticate a customer's identity, you may need to email or send them more info via text message. Your support reps must be able to move from one chat to another in a smooth way in these cases. So, it is possible with an omnichannel platform.
Customers and agents benefit from omnichannel platforms, which allow information to flow seamlessly between various channels. Customers can contact through the website, social media, live chat, and email. Each channel is linked together to ensure a timely response and consistent unparalleled service. With support agents able to respond across all media, having instant access to messages on all platforms reduces the cost of service delivery.
Your brand needs to understand your past customer encounters and provide them with the platform they want. However, knowing your consumers is what helps you achieve your goals. Comprehending the customer path from one platform to the next is helpful for more than support.
5. Learn About Customers with Data Insights:
You can now quickly learn more about your customers with the integration and other aforementioned features. All of these details are collected and compiled into visuals and graphs that show where changes are required and further behavioral insights. These factors can impact key decisions and modifications that improve chat support operations.
Moreover, these features provide useful info. Reports can help the team learn what consumers think, speak, and want. You can track agent performance, assist with scheduling, and know about customer satisfaction from a support standpoint with the help of these reports. In addition, live chat data can help you decide where to invest money when it comes to providing new services.
You can also use chat reports to track conversions in a sales setting. Reps performance, conduct over time, and comparisons between conversion steps are among the insights gathered. Live chat becomes an essential aspect of the customer experience and the sales cycle once CRM is in the running.
So, your business needs an outsourced team that manages and collects all the data for you. It falls within your budget and provides your brand with trained experts that handle all the processes on the front.
In today's time, all brands are moving to outsourcing their customer support for various reasons. These chat reps are available 24/7 and cater to users from all time zones. You need to make sure it is easy for a consumer to reach out to you at their convenience in order to drive more sales. 
Chat Support for Small Businesses – The Hour of the Need: 
With so many advantages for both brands as well consumers, it is no wonder that live chat has taken the market by storm in current times. Contact us today to avail the live chat trial to learn how DOS can grow your business' support system, give important data insights, and boost the customer experience.
Our team sits with you to craft a plan that aligns well with your business vision. You will get affordable rates, a skilled workforce, personalized strategies, and more with us. It is time to get the best live chat support services to take your business to the top by driving high sales.
Reach out to our team with all your requirements. Let's build your brand again with an effective customer care plan.