The world is a diverse place, with people speaking thousands of different languages. Even in one country, you can find regions that speak varying tongues. These differences will reflect on your business if your phone services do not cater to the global market.
Knowing more than one language in today's global economy is quite beneficial. The idea of multilingual phone support came about as a way to expand your customer base and reach those who speak other languages. This can be beneficial for businesses because they know how important customers feel when communicating in their language.
Knowing the tongue of potential customers who speak other than your native tongue can help you in business. Therefore, multilingual services were introduced so that local as well as international customers' needs could be met with an easy communication approach. The phone is the most used channel, and you need to keep it optimal to ensure customer consistency. So, we will see how multilingualism can help your support team bring in more business.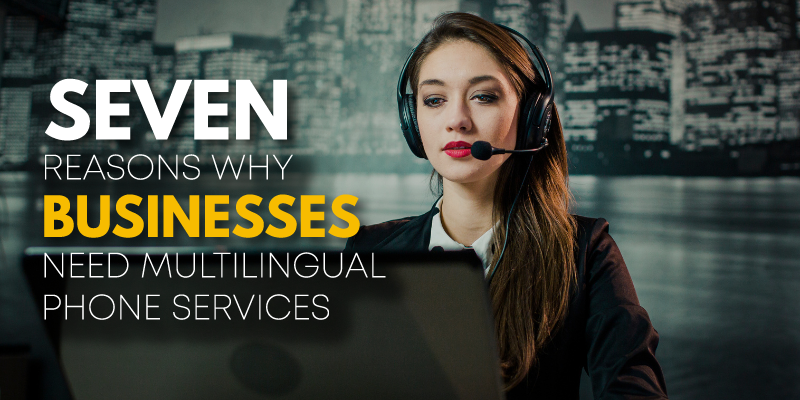 7 Ultimate Benefits of Multilingual Phone Services
The phone is one of the most common ways people communicate. As such, it is no surprise that there are many advantages to having outsourced support for your customer service. It is a great way to reduce costs, improve customer care, and increase employee productivity. Some of the key benefits are as follows:
Break the Communication Barrier
Find More Business Opportunities
Improve Your Customer Retention Rate
Receive Encouraging Feedback
1. Break the Communication Barrier
To ensure that your customers are satisfied, it is essential to provide them with multilingual support. Do you know what happens when customers do not receive satisfactory answers or have difficulty using the website? You may lose a lot of potential business if they do not find a preferred language option. It is devastating for both customer retention rates as well as revenue growth prospects. That is why it is vital to have multilingual answering services for small businesses. They do not have enough resources, and having outsourced help is the best option. By catering to your client's needs efficiently, you will be able to maximize profits and boost revenue.
2. Find More Business Opportunities
The need for a contact center that can interact with customers in their native tongues is becoming more important than ever. With globalization and tech development, businesses are expanding into other regions.
This means there is also an increase in callers on your phone lines. You need professional support handling these calls not to burden the existing staff members. It would take the load off their shoulders and help them achieve maximum productivity.
Boosting company efficiency is not easy but quite rewarding in the end. As you work towards smoother phone operations and satisfied customers, your success rate increases exponentially. So, it is a smart move to hire a third party that will take care of all your phone support tasks. It does not cost much and still provides quality assistance. 
3. Boost Your CSAT
If you speak to your customers in their native language, it makes them feel more valued. They will have a good impression of the company, improving customer experience. The more languages your phone services include, the happier your customers are. This is because they can get their problems solved in their native language instantly. They do not need to worry about it taking hours for someone who does not know anything but English.
This strategy aims to improve your brand image by providing more multilingual content for consumers. As a result, you can take advantage and expand into new markets, all while maintaining the success you have already achieved.
4. Save Yourself a Fortune
The best way to serve your customers is by hiring an efficient and knowledgeable outsourced phone support that provides multilingual service. This will save you money on staff turnover costs while still delivering quality work. 
Outsourcing this responsibility could not only make sure that all clients receive proper attention but also help maintain consistency across different regions. So, the time you spend on your phone can be better allocated. Outsource it to experts and focus on other tasks that are more important for your company. It is the best way to manage your budget and grow optimally. 
5. Improve Your Customer Retention Rate
It is crucial to cater to your company's services and products in the way that best suits a customer. In addition, by speaking their native tongue, you will leave them with an incredible impression. It reflects how much care goes into providing each client with tailored solutions. 
Helping your clients feel relaxed and confident in their language is a key component of building customer loyalty. This creates an environment that will help them retain more customers, attracting prospects along the way.
6. Expand Your Market Reach
Connecting with the right people is key to a successful business, and you can do it in multiple languages. You improve your relationship with local markets by offering services that are available for their needs. In addition, it is accessible at any time of day or night while reaching out globally. So, you might receive an increased sales sense with outsourced phone services.
Immigrants are a vital part of any country's workforce and have been crucial to its economic growth. Providing multilingual support in your business welcomes different cultures that will shape your future business preferences. Also, the bilingual workforce opens up opportunities that not many corners can provide. Bicultural workers serve customers better as diversity helps us see things through new lenses, which means more ideas.
7. Receive Encouraging Feedback
Negative feedback is a challenge and hints at improving services. We work hard to satisfy our customers. So when they give us negative feedback, we know there is always room for improvement. You struggle through the flaws of your product or service. Outsourced help finds ways on how you can improve to create a better CX.
When a customer gives you positive feedback, it encourages and inspires your team to keep upgrading the quality. In addition, providing multilingual support has made the language barrier obsolete. Customers feel at ease while talking with one of your team members who speak their native tongue. So, seeking feedback after every call is a healthy practice that helps you fill all the gaps.
Find the Best Multilingual Phone Services at DOS
Businesses that deal with international customers are prone to language problems. We have seen the top seven ways you can redefine your brand. When you need a call center for your staff in different languages, it can be costly and time-consuming, but not anymore. With Digitech Outsourcing Solution (DOS), there is no excuse not to make sure all customer needs are met for absolute satisfaction.
The customer service at DOS is second to none. If you are looking for an efficient team that can provide expert phone or online support, then look no further. We are available 24/7 and handle the customer in different languages. You get the best with our excellent communication skills and top-notch expertise. Moreover, you can try our free trial option to check our phone support services. Our trial lasts a few days to help you learn our support system better. So, it is time to make an informed decision and diversify your company.
Our phone agents cater to all businesses alike and yield the best results. So, get in touch with our experts and get a customized plan within your budget. We are your partner in success. Join hands with DOS and please customers from all backgrounds.