Without a steady and reliable flow of new clients, your business will never reach the heights it desires. This is why lead generation strategies have always been an integral part of marketing or sales units. If you want more money coming through those doors, you need only one thing: leads.
The best lead gen tactics are highly personalized for your business needs. Different companies and products will require unique techniques, and it is essential to have a well-rounded understanding of the market.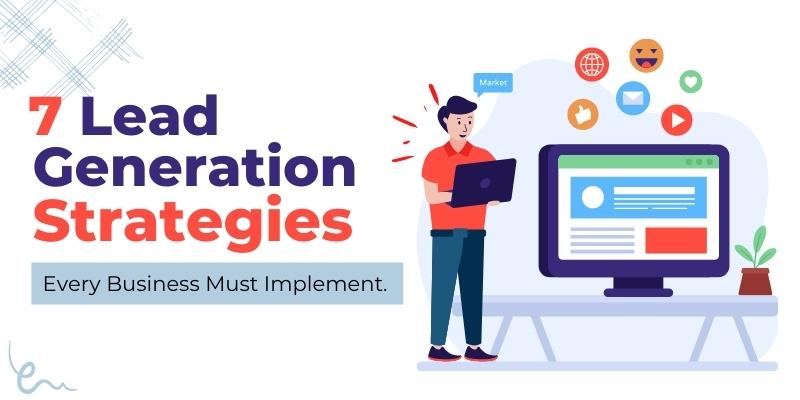 What is Lead Generation? 
The goal of any company is to turn strangers into customers, and there is no better way than by generating leads. This process entails converting potential buyers into satisfied clients or even a loyal consumer base. An increase in your leads and sales can be attributed to your work, developing personalized marketing campaigns tailored for each individual.
Targeting specific audiences not only helps reach potential customers but also reduces time spent on outreach efforts. Therefore, sales and marketing teams must come together as one cohesive unit to reach tangible results, whether it is B2B lead generation or B2C.
7 Lead Gen Strategies You Must Consider:
The secret to successful lead generation is taking the time and effort to craft an effective strategy. There are many approaches, but not all are suitable for your business model. So, do not feel like you have no choice. Look at the tactics below:
 Understand the Targeted Market.

 Make Your Brand Accessible.

 Create Attractive Landing Pages.

 Optimize Your Online Presence.

 Influence Prospects with Content Marketing.

 Introduce a Referral Reward Scheme.

 Run Rich Online Ads
1. Understand the Targeted Market: 
Market research helps you better grasp your target audience and figure out what they want in a product. This can be done through interviews, phone calls, or emails to specific people who might represent your demographic. In addition, online surveys are easy enough, and even someone without any marketing knowledge can carry them out easily.
Following are the things to keep in mind when conducting market research:
Whether your audience prefers online or brick-and-mortar shop

Their market research for the products you offer

Their mode of research

All the points imperative for influencing the buying decision

Preferred social platforms

The time of shopping

Mode of communication preferred

The target audience's expectations
With the knowledge you have now, your next steps will be more informed and successful.
2. Make Your Brand Accessible:
If you want to make sure that your prospects are 100% satisfied with your business, you must provide them the option to connect and get in touch as soon as possible. You can do this by offering multiple ways of communication, like live chat, email, or phone support. So offer leads and prospects multiple ways of connecting so that no one gets left hanging.
It is vital to have a variety of channels for communication in order not only to reach your customers but also to keep them engaged. The possibilities really do seem endless when we take into account all aspects. However, you can make your brand accessible with Digitech Outsourcing Solution as we provide all of the aforementioned services. You will get the best agents to handle all your customer services. Not only that, but our reps are also proficient in lead generation. So, you can talk to our experts to learn about how we shape your brand.
3. Create Attractive Landing Pages:
To generate more leads and convert them into customers, you need a remarkable landing page that is both eye-catching and accessible. They are an essential component of all lead generation strategies. There are many best practices for creating these pages, including using color schemes that help with engagement as well as providing clear instructions on how the user should proceed next or what information they need to sign up as an active member.
Some of the elements you must keep in mind when creating landing pages are as follows:
Write concise yet informative content

Use CTAs

Include a live chat option

Bold your benefits to users

Design relevant and striking visuals

Focus on a single conversion goal

Avoid external links

Test them with A/B testing

Ensure traffic from social media

Optimize webpage speed

Optimize it for phone users
4. Optimize Your Online Presence: 
Lead generation is not an easy feat to accomplish. You have the challenge of leading your web visitors down one specific path, ultimately ending in them signing up for an email list or purchasing something from you. But, how do we make this process easy? The correct answer is lead magnets.
Website: To increase the number of people who opt into your email newsletter, you should study what information interests them most. This will help create funnels that target different audiences with relevant lead magnets. You can always go with a free trial or demo button, but you should really think about your product and how it fits in the market.
Social Media: With a bit of creativity and effort, you can turn your social media marketing skills into successful lead generation strategies for increasing revenue. To make it easy for viewers of these posts and channels, follow up with a specific action by providing clear instructions.
5. Influence Prospects with Content Marketing: 
The content marketing strategy is an incredible way for businesses of all sizes to reach their target audience. For instance, you can use blog posts to create content that teaches prospects about the uses of your products or services.
To stay ahead in the online race, you need to produce high-quality content that is persuasive and SEO-friendly. This will help your business rank well on search engines so people can find out more about what you have to offer. Players in this game know that it is not enough to have great products or services simply. Your business needs a strong online presence. Therefore, you must use the relevant keywords or phrases that bring potential customers to your website.
You can use SEO – a long-term approach that does not provide an immediate impact – by generating high-quality articles or videos for organic social sharing to rank well on Google over time.
6. Introduce a Referral Reward Scheme:  
When you want to grow your business, it is essential that the people who are already using and enjoying what you offer take an active role in introducing others. A referral rewards system gives incentives for these behaviors by rewarding them with discounts or credits on future purchases. So, this helps bring new customers into the fold. It is one of the best lead generation strategies for eCommerce brands. So, is it not time you get in on the action? Your company can use this system to give deals and freebies. 
7. Run Rich Online Ads: 
It is not enough to just put up an ad once and hope people see it. You need constant marketing for your company or product name to be recognized by potential customers online, which can come from running ads on search engines and social media platforms. Therefore, invest in rich keywords to reach your potential buyers without any hiccups. Furthermore, you can get more traffic to your website from Google and other sites using remarketing campaigns.
The Best Lead Generation Strategies for Your Business: 
You do not have to be convinced of the benefits, but you should know that some strategies will work better than others. Your brand will find its own groove in no time. Use a phased approach to lead generation to see what works best for your customers before investing too much time and effort. So, by following these tips, you can maximize your lead generation efforts.
If it all feels like a hassle to you, leave everything to DOS. Reach out to our experts and share your business requirements with us. We ensure to give you a premium experience at affordable prices.