With a rapid shift in how businesses operate, consumers are increasingly getting used to instant gratification. Live chat support services are an excellent way to provide prompt help and build customer trust. However, you should understand what the customer expects from your brand and follow some best practices to help you create this trust.
In this article, we will discuss top tips to boost customer trust with your live chat and the importance of building trust with your customers. Not only that, but we will also go over how live chat service can help you retain customers.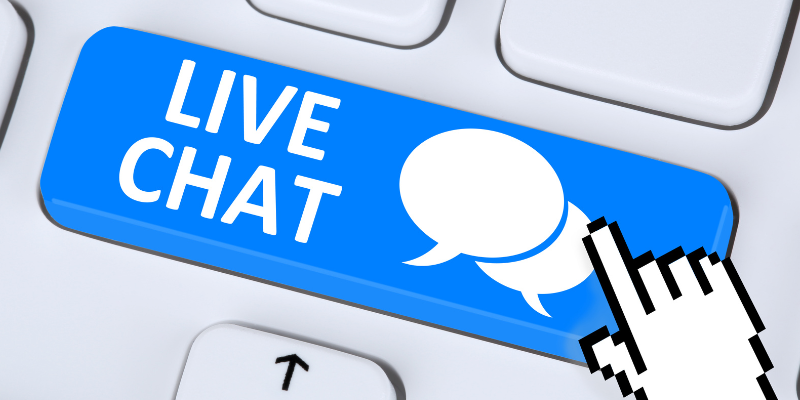 Importance of Customer Trust for Your Brand:
Social media today plays an integral role in the growth of online businesses. It also brings new prospects for your brand and gets the word out about it. In addition, it provides an easy platform to connect with your consumers and bring them to shop from you.
But, having customers is not the only point you should focus on. First, you must devise a solid plan to make them visit more than once. With the increase in competition, brands place building customer trust at the top of their list.
A loyal consumer line is the founding basis of a top-notch business. You need to make sure your buyers are confident in your product or service. It leads to business growth and success. You will also be able to make a mark on the minds of customers, which will always direct them to get your service. Having a faithful customer base can benefit your brand like nothing else. That is why it is crucial to winning customers' trust by hook or crook.
Keep a Hold of Your Customers with Chat Support Services:
Customer retention refers to the measure of people who stay with your business for a long period. One of the most effective ways to boost customer retention is to offer a live chat feature.
By offering live chat, you can get a better insight into the needs and mindset of buyers. It helps you create an experience tailored to each individual. This type of interaction increases customer loyalty, as consumers are likely to buy from a business they can talk to in real-time. Also, it increases the likelihood of a new client making a second or third purchase.
Live chat services also help improve the responsiveness of your customer service team. It can resolve issues faster than email or phone. The average response time on a live chat is 7-15 seconds which is quite shorter than the time it takes an agent to respond to an email or call.
Best Practices to Build Customer Trust:
To increase sales, build loyalty and generate good recommendations, businesses need to build relationships with customers. One of the best ways to do this is through live chat support services. 
Building customer trust requires active listening. Live chat gives firms the opportunity to connect with customers and understand their needs and feelings. In addition, it lets you record all the chats and improve your services per the direction of clients. You can tailor every client's experience to meet their specific needs. It is also essential to have a team of reps who can monitor chat at all times.
1. Meet Customer Expectations:
Building a relationship with customers is crucial for any business, whether online or offline. Good relationships boost sales, ensure loyalty, and lead to great references. To do so, it is crucial that you come to the desired ground of your customers and meet their expectations.
Today's tech-aware entrepreneurs are driving online demands and interaction. It can be challenging to live up to those expectations, but it is a need of time. According to 62% of buyers, e-transactions should be quick. As a brand advocate, you must standardize your product quality as well as offer efficient customer support.
Your live chat is a huge part of your customer care basis. You need to ensure it meets the top industry requirements. For example, you need to match your tone and attitude to that of your customer. You do not want to come across as a chipper when a customer is angry. It is also a good idea to let the customer finish their thought before responding. Chat platforms make this easier because they show what the customer is typing. This is important as a customer might share important information mid-sentence. 
2. Be Available After-Hours:
Chat support services are a powerful customer service tool that can notably improve the CX of your brand. It improves communication between you and your customers, which in turn increases trust, builds lifelong fans, and generates more sales.
Building trust with customers requires being accessible to them every single day. According to recent research, customers preferred firms that were open 24/7 to those that were only open from 9 to 5. Furthermore, 50% of customers take time out to surf the internet after business hours.
Additionally, providing client service around the clock may help you stand out from the competition. If you are accessible to your clients 24/7, they will be more inclined to return. Continuous service will help you draw in more clients and keep them around longer. You can provide self-service support options like FAQs and product manuals in addition to live chat help. This can assist your clients in resolving their inquiries and worries.
3. Be Transparent in Your Service:
Transparency and honesty can go a long way in boosting customer trust. Consumers want to feel comfortable with the brands they choose to do business with. Therefore, being transparent is important not only for customer experience but also for gaining a competitive edge. While it might seem simple, brands that make it easy for customers to access their personal information are more likely to have loyal customers.
Being transparent while chatting will help you win over new customers and retain existing ones. However, rather than hiding behind a facade of secrecy, businesses should make sure to be upfront about everything, from their prices to their policies. Regardless of the product or service, consumers prefer companies that are honest with them.
In order to make this work, companies often prefer outsourcing chat support services to hiring authentic staff. In addition to being honest, they also make it a point to engage buyers and listen to their needs. Transparency can also mean being transparent about how your products are made, including sharing behind-the-scenes videos in the chat to increase customer trust.
4. Value Customer Review (Positive or Negative):
Positive customer feedback can be a great motivator for businesses looking to attract new customers, especially in the digital age. While not all customer feedback is positive, there are many ways to encourage positive feedback from customers. 
It is important to provide a good chat support service so that your customers have an easy time when it comes to contacting you and dealing with any problems they have. It is also important to be responsive when people leave negative comments about your business so that you can address the problem right away.
It is also important to listen carefully to what your customers are saying and take their feedback seriously. This way, they will be more likely to come back in the future and leave more positive comments.
5. Follow Up with Your Customers:
Following up with customers after each interaction is one of the best strategies to earn their trust. For this, chat software can be helpful. It can be customized so that every text message you send to a client is unique to them. Most buyers anticipate this human contact.
Giving your consumers a copy of your product's manual is another approach to staying in touch with them. As soon as they finish placing their purchase, offer it to them. This will demonstrate your respect for their time and your desire to add value. Customers will feel respected, and their faith in your company will grow as a result.
You may follow the interactions and journeys of your customers with the aid of a robust live chat tool. This can alert you to customers who are ready to leave your shopping basket and allow you to follow up. It can also show you what a consumer has already purchased as well as what they are looking for.
For More Details: 
Keep Customers Coming Back for More with DOS:
Live chat support services can act as a driving force for your business. But only a seasoned expert can implement the tips revealed above. That is where the DOS comes in. Digitech Outsourcing Solution (DOS) has the best live chat service providers in store for you. Our team of skilled experts knows how to win customers' trust and retain them for longer. Let us communicate with your customers via web chat and bring out the best results. We offer a personalized plan that brings nothing but satisfaction to your business. Partner with DOS today and win customer loyalty at affordable prices.