Every business knows that the customer is the king, and this statement has never been more accurate. To become a top call center company, one must understand the know-how of support services. This is the fundamental key to improving your processes to become the most efficient and reliable company in the market. 
You might know how a call center works, but do you know how to improve your services? This is not enough to provide standard support in today's time. You need to go above and beyond to offer such a personalized experience that turns your one-time visitors into loyal customers. 
Here are a few ways you can improve your CX to win the consumer. We have curated these five golden rules to meet your expectations and provide your success reliably.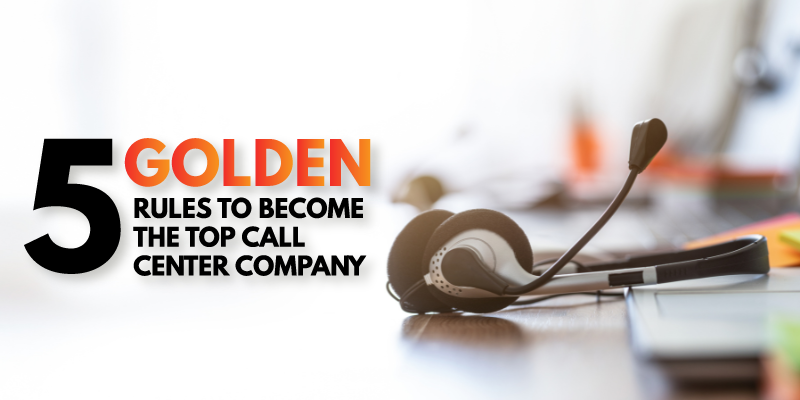 5 Most Effective Rules for Becoming Top Call Center Company
Hire Call Center Outsourcing Services
Commit to Privacy Protection
Analyze Reports for Quality
Organize Your Schedules Efficiently
Adapt to Technological Advancements
1. Hire Call Center Outsourcing Services
Everything aside, we are going to start with the ultimate tip today. You need to acquire a one-stop shop that brings the best techniques to optimize your helpdesk. Hiring these services brings all the solutions under one roof for your call center. 
These centers are equipped with the knowledge of operating the latest software. Outsourced reps can work on the interactive portal, multi-device compatibility, manage cloud data, provide detailed reports, offer flexible timings, and more. SMEs mostly need to understand that business support services are what help to grow in this advanced era. 
The main benefit of outsourcing is to stay operational 24/7 regardless of everything. For instance, as the COVID-19 pandemic affected the global market due to mobility restrictions, you will now have remote agents working from all corners of the world. This remote model provides nothing but absolute satisfaction to business owners. The CX trends describe the constant popularity of support solutions. 
2. Commit to Privacy Protection
Call centers are an integral part of every company now. It is the responsibility of your employees to ensure a secure CX. Eventually, it all comes down to them in making or breaking your business. So, it shows how crucial of a role call centers play.
Agents interact with customers, learn their preferences, and hold their personal data. Therefore, it is of utmost importance to protect it in the most secure manner. It will have a direct impact on building consumer relations. It is one of the factors that help in making your customers loyal. When someone knows their sensitive information is safe with you, they will choose you over and over again.
In order to become a top call center company, you need to put stringent measures in place to save your customers from potential risks. Outsourcing companies take exceptional security measures to protect you from phone breaches, compliance traps, or any other mishap.
It would be great to use secure encryptions like AES-256 to protect the billing details of your customers. In addition, it helps in making secure purchases. It would also be great to install an antivirus system to increase security.
Your brand can use personalized call recordings with a virtual assistant agency to make sure no sensitive data is leaked, misused, or even documented at your end. All of these steps ensure a safe customer journey and foster trust. So, it is vital to pay heed to your customer's privacy.
3. Analyze Reports for Quality
Companies must collect data and assess these reports to find out the loopholes in their services. These reports help you maintain and improve the quality level. The faster you resolve customer issues, the more you grow. It will make you familiar with all the common problems, so you are prepared in advance. 
The average response time to answer a call is 20 seconds. However, it would be best to excel at this by answering most of your calls within 15 seconds. On the other hand, outsourcing companies make sure to pick up the call within three rings. Therefore, staying updated with these facts and stats really gives you an edge in the long run. 
You need to keep your team performance optimum. By tracking their performance and meeting the industry standards, you will beat many in this race. So, take care of the statistical overviews and gain insights to improve the entire CX. 
4. Organize Your Schedules Efficiently
You can never estimate the call volume of a call center. Not only to cater to a customer, but there are various other tasks to perform in the contact center. In order to increase your productivity, you must schedule your calls. Moreover, it is seen that these companies are more prone to burnout due to their work nature.
One of the main reasons behind burnout is work stress. Call agents are always on the line, and having work stress affects their efficiency. It wears them out not only physically but also mentally, resulting in more dissatisfaction.
You can optimize your shift schedules to improve staff performance. It would be great to make timings flexible or find the window that suits a rep better. Also, a few software helps analyze the work volume and the agents required on a specific task. Your employees will also be able to check their schedules through these tools. They can also switch shifts with their colleagues in the light of an emergency. All of these collectively make you a top call center company.
5. Adapt to Technological Advancements
Your business needs to think about the future by staying updated with the latest techniques. That time is not far when call centers around the world will experience a drastic change with the help of outsourcing solutions.
You need to stay updated with whatever is going on in the tech world for your call center. For instance, there are now biometric as well as voice recognition, predictive dialing, and AI calls operations available. It helps reduce fatigue and allows you to focus on more vital functions.
You need to constantly evaluate your work process and assess what you can do to improve it. Implementing the latest tools will not only make your processes seamless but also give off a modern-day vibe to your customers. It is the key to fostering a deep customer relationship. 
Become a Top Call Center Company with DOS
Despite running fine, you can still consider having call center solutions to see a boost in your business. You need to reevaluate your strategies to give customers an experience never seen before. We have discussed all the essential rules you need to follow to make your place in this saturated market.
Digitech Outsourcing Solution (DOS) is the best call center service provider. You can achieve your goals with our skilled workforce. Our reps work round to clock to make sure you are operational 24 hours a day, seven days a week. Moreover, you can request our agents who are proficient in languages other than English. Our support team is multilingual and gives the best CX. So, sit with our experts and personalize a plan that suits your business.
From maintaining the KPIs to organizing appointments, you will receive an all-inclusive plan. So, it is time you work with our solutions to leave an impact in this world.