People are more likely to stay with a business when they receive a reliable customer service experience. The CX is key in today's world, where word-of-mouth advertising has become more powerful than ever before. This generation's preference for authentic over synthetic experiences sets a lot of factors in ruling the market. Having the best virtual receptionist services help your business differentiate itself from others by providing a forgetful experience.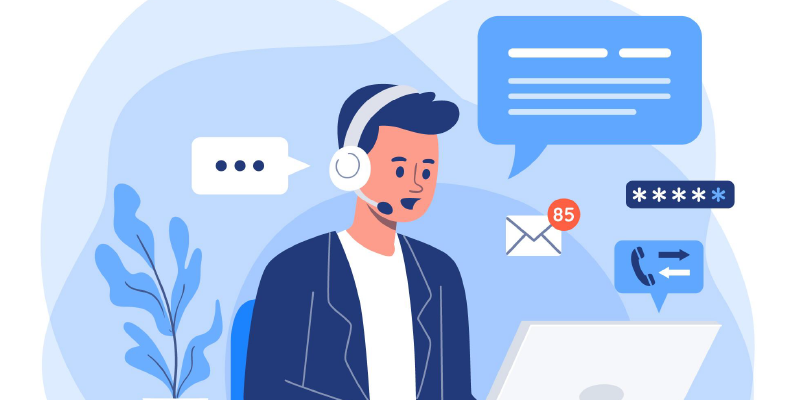 Excellent customer service is not only about how you interact with people but also the type of business you run. There are many things a company can do to ensure great relationships and improve its quality.
Working with virtual assistant companies is a great way to improve customer relations. They take care of all your customers' needs, so you can focus on other important tasks without worrying. Here's what is a VA and one boosts your relationship with customers:
The Definition of a Virtual Receptionist: 
Virtual assistants offer a range of administrative services to businesses globally. These specialists are freelancers and operate remotely, providing an array of assistance for various projects or tasks. For instance, it is a great way to manage inbound calls for your business. You just need to use a call-forwarding tool and let the real humans warmly handle your calls.
If you run a business, customer service will inevitably be on your mind. You need professional assistance to take care of their needs promptly. That is why you need the best virtual receptionist services that offer 24/7 availability as well as expertise in handling customers according to surefire practices. 
How VA Services Boost Your Customer Relations: 
Virtual receptionists are a popular choice for companies that need to manage a high call volume. It saves you time and cost while offering convenience. The most crucial factor for businesses when deciding whether or not this approach will work out includes your specific needs.
Back office support services improve customer relations by taking the stress off of your plate. You no longer have to worry about dealing with people, as these receptionists free up your time for other important things. So, let's take a quick look at how it helps your brand: 
No

Call Goes Unanswered

Customers Experience Prompt Responses

Reduce Churn Rate

Screen Your Calls

Brings in Prospects
1. No Call Goes Unanswered:
VAs are always on hand to take your call. Your customer will never feel left hanging with your brand or eager for an answer or at least a voicemail message. 
You are wasting customers' time by not having a service line set up. How does it make them feel when they need help and can't get through to someone on the phone, or worse yet, hold for an hour before being put off? Your customers can get in touch with a human touch with a virtual receptionist. They pick up the call within a few rings and make sure you do not miss out on any prospects.
The customer is always the top priority with you. You want them happy and coming back for more. So, even when they do not hear from you right away, it is not a problem. VA will send a confirmation that their message was received successfully, and you will contact them at your earliest convenience.
2. Customers Experience Prompt Responses:
With the best virtual receptionist, you can provide your customers with a more personalized experience. They quickly handle all your basic needs without transferring the call, so your customers do not have to wait around. It is the perfect way to streamline customer services and eliminate waiting periods. 
As your store's main point of contact, a VA handles all customer issues. They can process payments, answer queries about your guidelines, schedule meetings, store lead data, and more. It is the perfect solution for companies that need to provide services quickly and with minimum hassle.
3. Reduce Churn Rate:
Customers are more likely to leave when they are unhappy with their purchases. It increases your churn rate, which no brand wants to see. However, if you can assure them that your business understands and cares about what is happening, it will alleviate some of those concerns. It ultimately keeps people as loyal clients.
A virtual receptionist helps your customers feel cared for and is crucial in turning them from unhappy shoppers to loyal ones. Besides, this will help cut down on harmful word of mouth, which means less customer turnover and higher sales for you.
4. Screen Your Calls:
As you grow and expand into new markets, it is necessary to start screening calls so proper time is spent on leads. Cold calls drain your energy, and you need to prioritize your hot leads without affecting one or each other. 
Hiring a VA is an ideal solution for any brand that needs to focus on its core competencies while relying less upon time-consuming tasks. The best virtual receptionist will screen your phone calls so you can manage your time smartly. 
You can tailor a script for your virtual receptionist to take calls and screen them so you do not have to spend time on tedious tasks. This ensures you can spend your time on the most beneficial prospects first. Moreover, you can also offer different scenarios that will allow delegation of support processes, so those tasks do not pile up. 
5. Brings in Prospects: 
The rate at which businesses are growing continues to be staggering. If you are not ready for the influx of calls, hire a remote receptionist today. When it comes time for your company's growth opportunities and increased workloads, make sure that there is someone on call who can take care of them quickly and efficiently.
A VA is the key to scaling your business quickly and looking influential to prospects. They can help potential clients build trust in what you offer while providing exceptional customer service that keeps current ones happy too. It is a reliable way to grow your company while handling both new and old clients.
You need a professional image for your business but do not have the time or resources to manage everything on your own. VAs take care of all those pesky little details so that when customers come in, they see what you are known for: excellence from start to finish with no hassle.
DOS Offers the Best Virtual Receptionist Services:  
Virtual receptionists are an innovative way to offer support and facilitate relationships with customers. These personalized services are beneficial for small businesses that want a prominent presence. Many do not have the necessary budget or are not interested in investing time into managing employees' schedules.
Digitech Outsourcing Solution is a Delaware BPO call center and VA agency that offers reliable customer support solutions at affordable rates. Our virtual receptionists are an excellent way to improve customer relationships in your business. They provide a sense of humanity and warmth that customers can't always access, which is why we are so popular with many companies today.
With us, you can boost your customer relations without any hiccups. So, contact our experts today and share your business requirements with them. We will reach out to you with a perfectly personalized plan that ensures nothing but success.